Teaching the Large College Class: A Guidebook for Instructors with Multitudes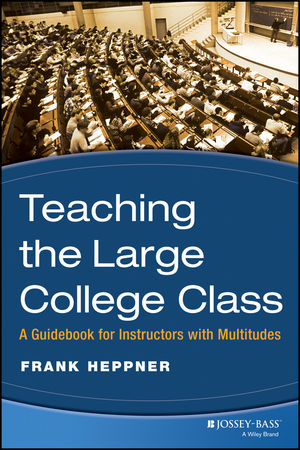 Teaching the Large College Class: A Guidebook for Instructors with Multitudes
ISBN: 978-0-470-18084-6
Oct 2007, Jossey-Bass
208 pages
Description
Teaching large classes is a fact of life for professors at many institutions. In addition to pedagogy, instructors of these courses must also be concerned with legal, ethical, financial, technological, personnel, and management issues. Virtually all introductory courses are large ones, as are the popular intermediate courses at large institutions. Typically, little or no training or instruction is provided to new professors about how to manage large classes successfully. This book is a valuable resource for any college teacher, adjunct or full-time, facing a large class. It will also be useful for college administrators who might want to issue it to teachers, especially adjuncts, assigned to large classes for the first time. A distillation of years of experience by the author?who started his college teaching career in 1969?in teaching large classes and in coaching other professors to do the same, this guide is concise and user-friendly. It employs teaching-as-acting as a common theme, with many practical examples covering all of the major aspects of organizing, managing, and teaching a large lecture course in any field.

For more information and excerpts, visit www.largelecture.com
About the Author.
Preface.
Acknowledgments.
1 Thinking Ahead.
Why Your Class Could Belong to the Chamber of Commerce.
2 Getting Ready for the First Day.
The ""Value"" Course.
The ""Deluxe"" Course.
The ""Standard"" Course.
Background Investigation of the Course.
The Syllabus.
The Course Manual.
Selecting and Ordering Texts.
Course Budgets and Ordering.
Handouts.
Checking Out the Physical Facilities.
Reading Assignments and Lectures.
Disabled Student Matters.
Deciding on a Grading Plan.
Assembling a Lecture.
The First Day of Class.
3 The Teacher as Actor.
Character.
Lines.
Stagecraft.
Theater.
Audience.
4 Managing Assistants and Graders.
Covering Yourself.
Safety.
Harassment.
Grading Procedures.
General Communications.
Delegating Authority.
Motivating the Staff.
5 Using Media Effectively.
The Blackboard.
The Whiteboard.
Optical Overhead Projector.
Legibility.
35mm Slides.
Graphic Considerations for Projection.
Typefaces.
Computer Presentation and Projection.
Scanning, Resolution, and Format.
Electronic Overhead Projector.
Live Television.
The Internet and Web.
Clickers.
Images, Time, and Some Philosophizing About Media.
Murphy's Law and Using Media.
6 Auditorium Classroom Activities.
Straight Lecture Equals Death.
Breaks.
The Mock Jury.
Games.
7 Assessment and Testing.
Assessment.
Testing and Grading.
Levels of Learning.
Complex Problem Solving.
Types of Examination and Quiz Questions.
Evaluations Other than Tests.
Homework.
Cheating.
Internet Plagiarism.
After the Test Is Over.
8 Grading.
Categories of Categorization.
Non-Normal Distributions.
Special Considerations.
9 The Seasons of a Class.
Student Evaluations of Teaching.
Classroom Research.
Grants.
The Last Lecture.
Readings and Resources.
Appendix A. Sample Course Outline.
Appendix B. First-Day Checklist.
Appendix C. Sample Course Syllabus.
Appendix D. Sample First-Day Lecture.
Index.