Teaching with Classroom Response Systems: Creating Active Learning Environments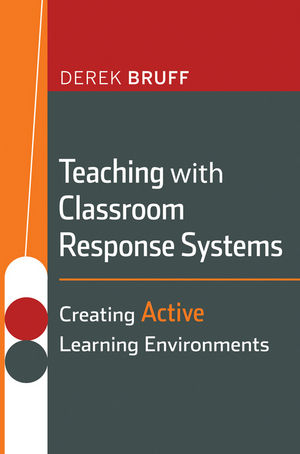 Teaching with Classroom Response Systems: Creating Active Learning Environments
ISBN: 978-0-470-28893-1 February 2009 Jossey-Bass 240 Pages
Description
There is a need in the higher education arena for a book that responds to the need for using technology in a classroom of tech-savvy students. This book is filled with illustrative examples of questions and teaching activities that use classroom response systems from a variety of disciplines (with a discipline index). The book also incorporates results from research on the effectiveness of the technology for teaching. Written for instructional designers and re-designers as well as faculty across disciplines.
A must-read for anyone interested in interactive teaching and the use of clickers. This book draws on the experiences of countless instructors across a wide range of disciplines to provide both novice and experienced teachers with practical advice on how to make classes more fun and more effective."--Eric Mazur, Balkanski Professor of Physics and Applied Physics, Harvard University, and author, Peer Instruction: A User's Manual
"Those who come to this book needing practical advice on using 'clickers' in the classroom will be richly rewarded: with case studies, a refreshing historical perspective, and much pedagogical ingenuity. Those who seek a deep, thoughtful examination of strategies for active learning will find that here as well—in abundance. Dr. Bruff achieves a marvelous synthesis of the pragmatic and the philosophical that will be useful far beyond the life span of any single technology." --Gardner Campbell, Director, Academy for Teaching and Learning, and Associate Professor of Literature, Media, and Learning, Honors College, Baylor University
Buy Both and Save 25%!
This item: Teaching with Classroom Response Systems: Creating Active Learning Environments
Tools for Teaching, 2nd Edition (Paperback $54.00)
Cannot be combined with any other offers.
Original Price:$96.00
Purchased together:$72.00
save $24.00
Table of contents
Preface.
The Author.
1. Engaging Students with Clickers.
Generating Classwide Discussions.
Generating Small-Group Discussions.
Creating Times for Telling.
Structuring Class Time.
Making Class More Fun.
2. Assessing Students with Clickers.
Uncovering Student Learning.
Evaluating Student Learning.
3. A Taxonomy of Clicker Questions.
Content Questions.
Process Questions.
4. Teaching Choices.
Use of Class Time.
Writing Questions.
Student Response, Participation, and Grading.
Classroom Choices.
Small Classes.
5. Technical and Logistical Choices.
Technical Challenges.
Vendor Selection and Adoption.
Supporting and Promoting the Use of Clickers.
Low-Tech Options.
High-Tech Options.
6. Why Use Clickers?
Increased Student Participation.
Increased Student Engagement.
Frequent Feedback on Student Learning.
Final Suggestions.
References.
Index.
Reviews
"Good teachers constantly look for ways to improve instruction. Bruff, Assistant Director of the Vanderbilt University Center for Teaching, surveys how classroom response systems, commonly known as "clicker technology," can improve teaching and learning.
Bruff supplements his points on engagement and assessment with a classified array of clicker questions for a variety of teaching contexts. He also provides helpful advice on teaching choices with response systems: when to grade clicker questions, how to use them for summative assessment, and how to address cheating and lack of participation. He provides additional helpful suggestions on dealing with logistical issues such as system choice and troubleshooting. Throughout, the reader benefits from the copious examples gleaned from teachers.
This book convincingly demonstrates that clicker technology allows teachers and students to adapt quickly to emerging learning needs….Bruff's work is an enthusiastic, accessible, and detailed introduction for all educators interested in this popular educational technology tool."
—NACADA Journal, Issue 30(1) (Spring 2010)