Team Performance Inventory: A Guide for Assessing and Building High-Performing Teams, Facilitator's Guide Set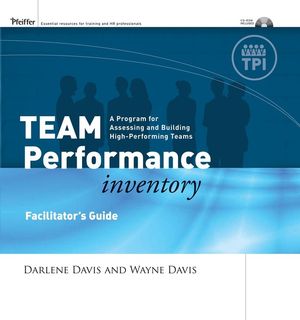 Team Performance Inventory: A Guide for Assessing and Building High-Performing Teams, Facilitator's Guide Set
ISBN: 978-0-787-98668-1
Feb 2008, Pfeiffer
224 pages
Product not available for purchase
Description
Today's teams, more that ever before, need to know what they do well and what they need to improve. But even more essential is to know how far the team needs to go and how to get there in order to reach its optimal performance.

The Team Performance Inventory is a comprehensive resource for assessing a team's stage of performance, for conducting and facilitating team-building workshops, and for access to relevant resources for ongoing personal and team development.

This ready-to-use collection of how-to experiential learning activities, scripts, assessments, reproducible masters, and coaching and intervention guidelines provides an indispensable resource for team building and performance improvement. The Team Performance Inventory provides:
Valuable insights into a team's unique dynamics and performance behaviors.
A process for team members to explore their interactions.
A developmental roadmap with milestones and practical action steps.
Methods for detecting and addressing points of vulnerability within teams.
Ways to build a climate that promotes trust and understanding among team members.
Suggestions for identifying the steps that can be taken to improve effectiveness.
Techniques for evaluating member commitment to the team and ideas for strengthening team-player behaviors.
Effective methods for working through task and relationship issues.
Suggestions for making team development an ongoing process.
Ways to identify the goals that can bring value to the organization and its stakeholders.
Team Performance Inventory can be used effectively with any collaborative group,whether a workgroup, a department, or an entire business unit.
Introduction.
I. The Stages of Team Performance.
The Stages of Team Performance.
The Four Stages of Team Performance and the Four Leadership Styles.
The Team Performance Inventory (TPI).
The TPI Scoring Software.
II. Before the TPI Workshop.
Planning the TPI Workshop.
III. The TPI Workshop.
Delivering the TPI Workshop.
The TPI Workshop Agenda.
The TPI Facilitator's Workshop Script.
IV. The Exercise Toolkit.
Team Exercise 1. Team Ground Rules.
Team Exercise 2. Values Exploration.
Team Exercise 3. Roundtable.

Team Exercise 4. Conflict.
Team Exercise 5. Multi-Generational Teams.
Team Exercise 6. Team Demotivators.
Team Exercise 7. Affi rmations.
Team Exercise 8. Change.
Team Exercise 9. Problem Solving.
Team Exercise 10. Decision Making.
Team Exercise 11. Prioritizing.
Team Exercise 12. Service Delivery Agreements.
V. After the TPI Workshop.
Following the TPI Workshop.
VI. Supplementary Materials.
Screenshots of the TPI Workshop PowerPoint Slides.
Facilities and Layout Guide.
References.
About the Authors.
How to Use the CD-ROM.
Pfeiffer Publications Guide