Teamwork and Teamplay: Games and Activities for Building and Training Teams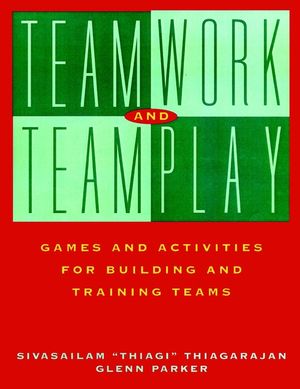 Teamwork and Teamplay: Games and Activities for Building and Training Teams
ISBN: 978-0-787-94791-0
Apr 1999, Pfeiffer
176 pages
Description
Two training legends offer you a definitive team sourcebook!

The world's two best-known team-building facilitators bring you over thirty-five cutting-edge activities. You'll turn to this treasury of hassle-free, sure-fire games, exercises, and simulations time and time again.

"In keeping with the tradition of continuous learning about teamwork, Thiagi and Parker have hit a home run. Teamwork and Teamplay is a must-have for every training bookshelf."
--Harvey A. Robbins, co-author, Why Teams Don't Work

"I can think of forty reasons to buy this book: thirty-eight games and activities, each a gem--plus two of the best writers in the training business. I am truly impressed at how well each activity is designed and how easy the rules are to understand."
--Steve Sugar, author, Games That Teach; president, The Game Group

The game formats are varied: some short, some long; some icebreakers, some closers; and much more! A game selection matrix enables you to find a game that suits your situation. Plus, training legends Thiagi and Parker share with you their proven insights on effective teamwork and facilitation.
Buy Both and Save 25%!
Original Price:$132.50
Purchased together:$99.38
save $33.12
Cannot be combined with any other offers.
Buy Both and Save 25%!
Original Price:$131.00
Purchased together:$98.25
save $32.75
Cannot be combined with any other offers.
Introduction.

About the Authors.

Balloonatics: A Not-So-Serious Assessment Activity.

Boxed In: An Opening Activity.

Building Bridges: Creating Effective Stakeholder Relationships.

Censorship: Exploring Cooperation and Competition.

Controversy: Discussing Sensitive Topics.

Defining Moment: An Ethical Decision-Making Activity.

Escape from Gilligan's Island: A Conensus-Building Exercise.

ET: Exploring Characteristics of Effective Teams.

Free Cash: A Cash Game to Explore Trust.

Help!: A Quick Simulation Activity.

How Do You Like Your Recognition? A Self-Assessment.

Metcalfe: A Large Group Team-Building Activity.

Our Team: Learning the Stages of Team Development.

Quotes from Experts: An Inter-Team Contest.

Real Virtual: A Simulation Game.

SDLT: A Self-Directed Learning Team Activity.

Situation Analysis: A Problem-Solving Activity.

Sleepless in Seattle: An Inter-Goup Team Game.

Slogans: An Intact Team Icebreaker.

Stages: Reviewing the Team-Development Process.

Team Bingo: An Educational Activity.

Team Contest: An Idea-Generation Challenge.

Team Game Show: A Competitive Activity.

Team Hats: A Closing Activity.

Team Leader: Identifying Desirable Characteristics of Leaders.

Team Norms: Exploring Relationships Among Groud Rules.

Team Quotes: An Introductory Activity.

Team Rewards: A Consesus Activity.

Team Values: Clarifying Application Opportunities.

The Values Continuum: A Team-Assessment Tool.

Two-Hour Team Building: A Quick and Effective Intervention.

What's My Line?: A Role-Clarification Activity.

The Wine List: An Introductory Activity.

Words to Team By: A Different Kind of Assessment Tool.

Your Blank Team: An Assessment Activity.

Your Tarot Team: A Quick Team Assessment.

Zero Sum?: A Cross-Team Collaboration Game.

Topical Index of Games and Activities.

Activities and Games: Primary Use.

Activities and Games: Time and Participants.
"In keeping with the tradition of continuous learning about teamwork, Thiagi and Parker have hit a home run. Teamwork and Teamplay is a must-have for every training bookshelf." --Harvey A. Robbins, co-author, Why Teams Don't Work

"I can think of forty reasons to buy this book: thirty-eight games and activities, each a gem -- plus two of the best writers in the training business. I am truly impressed at how well each activity is designed and how easy the rules are to understand." --Steve Sugar, author, Games That Teach; president, The Game Group

"This book performs the real service of helping neophytes and experts alike to explore the factors that influence team effectiveness. Practitioners will use these games and activities to propel teams to peak performance." --Danny Langdon, president, Performance International; co-editor, Intervention Resource Guide