Techniques for Desert Reclamation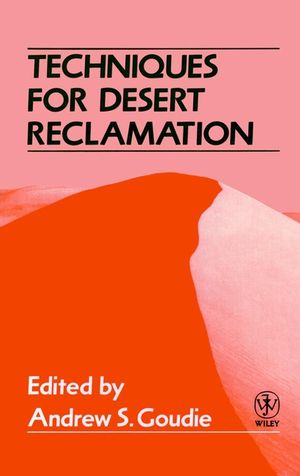 Techniques for Desert Reclamation
ISBN: 978-0-471-92179-0 January 1991 286 Pages
Description
Techniques for Desert Reclamation Edited by Andrew S. Goudie School of Geography, University of Oxford Major world environmental issues, such as the degradation of deserts and their margins, are covered in this book. Unlike many volumes which merely analyse the causes and consequences of desertification, this book concentrates on the methods that are available to contend with some of the main symptoms of desert degradation. These symptoms include soil erosion by wind, soil erosion by water, salinization, loss of tree and shrub cover, the loss of animal resources, and the depletion of water resources. If the utility, stability and diversity of arid environments is to be maintained, then the techniques described in this book will need to be employed. The book is global in perspective and is written by academics and consultants with long-continued and diverse experience of desert environments. It attempts to present techniques for desert reclamation in a concise, comprehensive and accessible way, and assumes no technical expertise in the reader.
Table of contents
Desert Degradation.

The Control of Blowing Sand and Mobile Desert Dunes.

Wind Erosion and Dust Storm Control.

Soil Salinity--Causes and Controls.

Irrigation Development in Desert Environments.

Water Erosion and Conservation: An Assessment of the Water ErosionProblem and the Techniques Available for Soil Conservation.

The Conservation and Use of Plant Resources in Dry Lands.

The Conservation and Management of Semi-Arid Rangelands and TheirAnimal Resources.

Conservation and Management of Water Resources.