Techniques of Chemistry: Molecular Design of Electrode Surfaces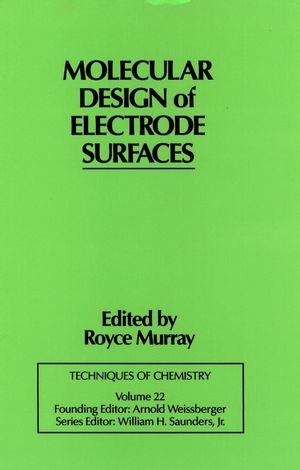 Techniques of Chemistry: Molecular Design of Electrode Surfaces
ISBN: 978-0-471-55773-9 May 1992 448 Pages
Description
A large and detailed volume on the design and control of the molecular character of electrode surfaces. Leading research scholars have contributed material dealing with the development and understanding of molecularly designed electrodes. Topics include: catalysis at coated electrodes, clay and zeolite layers, adsorption on electrode surfaces, electronically conducting polymers and more.
Table of contents
Adsorbed Organic Molecules at Well-Defined Electrode Surfaces (G.Salaita & A. Hubbard).

Modification of Electrode Surfaces with Self-OrganizedElectroactive Microstructures (J. Facci).

Dynamics of Electron Transport in Polymeric Assemblies of RedoxCenters (M. Majda).

Catalysis at Redox Polymer Coated Electrodes (C. Andrieux &J.-M.

Saveant).

Electrodes Modified with Clays, Zeolites, and Related MicroporousSolids (A. Bard & T. Mallouk).

Electron Transfer Mediation in Metal Complex Polymer Films (C.Leidner).

Voltammetric Diagnosis of Charge Transport on Polymer CoatedElectrodes (N. Oyama & T. Ohsaka).

Mass and Charge Transport in Electronically Conductive Polymers (C.Martin & L. Van Dyke).

Index.