Technology and Organizations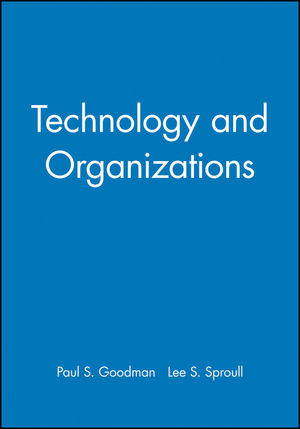 Technology and Organizations
ISBN: 978-0-470-63940-5 March 1990 Jossey-Bass 304 Pages
Description
Provides new ways for both researchers and managers to think about technology's role in people's organizational lives, showing its impact on individuals, groups, and the organization as a whole. Includes original papers from leading scholars to show how new technology requires organizations to make fundamental changes.
1. Technology as Equivoque: Sensemaking in New Technologies (
Karl E. Weick
).
2. Understanding Technology and the Individual in an Organizational Context (Paul S. Goodman, Terri L. Griffith, Deborah B. Fenner).
3. Work Groups: Autonomy, Technology, and Choice (Gerald I. Susman).
4. Technology and Structure: An Organizational--Level Perspective (W. Richard Scott).
5. Technology, Management, and Competitive Advantage (James G. March, Lee S. Sproull).
6. Technology and Organizations: A Cross-National Analysis (Leonard H. Lynn).
7. Technology and Organizations: An Economic/Institutional Analysis (David C. Mowery).
8. A Technological Perspective on New Forms of Organization (Raj Reddy).
9. Technology and Organizations: Integration and Opportunities (Lee S. Sproull, Paul S. Goodman).