Technology for Facility Managers: The Impact of Cutting-Edge Technology on Facility Management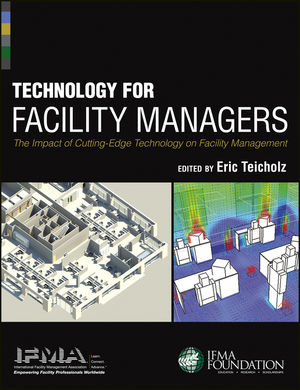 Technology for Facility Managers: The Impact of Cutting-Edge Technology on Facility Management
ISBN: 978-1-118-38283-7
Oct 2012
336 pages
Description
A comprehensive look at the impact of technology on facility managers
Facility managers are tasked with operating and maintaining the built environment. Technology plays a big role in this function, and often facility managers are asked to install, implement, and work with a variety of technologies without any prior experience in information technology.
Technology for Facility Managers presents the cutting-edge technology that facility managers will come across in their careers. Each chapter covers a different technology and includes an overview and basic primer about the technology—the current use of the technology, how it's evolving, and how it will impact the practice of facility management in the future—and is complemented with case studies that address how the technology was implemented and the effect it had on the organization. Technologies covered include:
Building information modeling (BIM)
Building automation systems (BAS)
FM automation (CAFM/IWMS)
Condition assessment/life cycle analysis
Radio frequency identification (RFID)
Geographic information systems (GIS)
Social networking
Sustainability and energy analysis
Information and communications technology (ICT)
Workflow technology that supports standards such as Business Process Modeling Notation (BPMN) and those developed by the Workflow Management Coalition (WfMC)
Technology for Facility Managers is appropriate as a textbook for IFMA Accredited Degree Programs and as a resource for professionals studying for certification through IFMA.
Buy Both and Save 25%!
Original Price:$175.00
Purchased together:$131.25
save $43.75
Cannot be combined with any other offers.
ACKNOWLEDGMENTS xiii
IFMA FOUNDATION xv
FOREWORD xvii
INTRODUCTION xix
History and Overview xix
Content xx
Crosswalk xx
Part 1 Technology xxiii
Part 2 Applications xxiii
CHAPTER ABSTRACTS xxv
Chapter 1: CAFMIWMS—Balancing Technology, Processes, and Objectives xxv
Chapter 2: Building Information Modeling xxvi
Chapter 3: Building Automation and Control Systems xxvii
Chapter 4: Roles of GIS in Facility Management xxviii
Chapter 5: Radio Frequency Identification xxviii
Chapter 6: Information and Communications Technology xxix
Chapter 7: Workflow Technology: Knowledge in Motion xxx
Chapter 8: Sustainability xxxi
Chapter 9: Condition Assessment in Facility Asset Management xxxii
Chapter 10: Computer Modeling xxxii
Chapter 11: Technology and the Workplace xxxiii
Chapter 12: The Role of People and Process in Technology xxxiv
Chapter 13: Social Media xxxv
AUTHOR BIOS xxxvii
PART 1: Technology
CHAPTER 1 CAFMIWMS—Balancing Technology, Processes, and Objectives 3
Chris Keller
Executive Summary 3
Introduction 4
Overview and Objectives 5
Value of Facility Management Automation to the Organization 6
Interoperability 6
Opportunity for Reorganization 7
Conveying Culture 8
Facility Management Technology 8
Balancing Act 10
Technology of the (Near) Future 12
Trends in Facility Management 12
Trends in Business 13
Trends in Technology 14
CHAPTER 2 Building Information Modeling 21
Louise A. Sabol
Introduction 21
BIM for Facilities Management 24
Standards and Data Exchange 31
Challenges of BIM for FM 33
FM BIM in Practice: Health Care Building Consortium's BIM Initiatives 36
CHAPTER 3 Building Automation and Control Systems 41
Terry Hoffmann
History of Building Automation Systems 41
Building Automation Systems Today 47
The Future of Building Automation Systems 51
Case Study: Ave Maria University, Naples, Florida 53
CHAPTER 4 Roles of Geographic Information Systems in Facility Management 55
William P. Witts Jr.
Enhancing FM Capabilities with GIS 55
GIS Technology 55
GIS with Facilities Management 56
GIS Data 56
Location 56
Vector Data 56
Raster Data 57
Attribute Data 58
Mapping for FM 59
Location Mapping 59
Thematic Mapping 61
Mapping Density 62
Mapping Change 64
Spatial Analysis for FM 64
Attribute Selection 64
Nearest Selection 65
Inside Selection 66
Buffering Selection 67
Geocoding 68
Current Use of GIS at MIT Facilities 68
MIT History 68
Access to GIS through the Internet 69
GIS Analysis within the Building 71
Mobile Technologies 73
Conclusion 73
CHAPTER 5 Radio Frequency Identification 75
Geoff Williams
Introduction 75
Origins and Evolution 76
Standardization 76
Beyond Barcode 77
Corporate Real Estate and Facility Management Leverage Use of RFID 78
Theft Detection and Mitigation 78
Asset Management 79
Personnel and Guest Access and Tracking 79
Move Management 79
RFID with Sensors 79
Components of RFID 80
Applications (Middleware) 80
RFID Interrogators or Readers 81
RFID Tags 81
Extra Sensory Identification to Optimize FM Operation 82
Conclusion 83
CHAPTER 6 Information and Communications Technology 85
Richard Hodges
Summary 85
Introduction 86
Technology Primer: Wired ICT Networks in Buildings 88
Wireless Networks: A Quick Review 89
ICT Networks in Buildings—A Changing Paradigm 91
Overbuilding 91
Inflexibility 91
Lack of Integrated Planning 91
ICT Networks in Buildings—New Design Concepts 92
New Design Concepts in Practice: Case Studies 93
Elementary School 93
Research Laboratory 94
Commercial Office 95
Conclusion 95
CHAPTER 7 Workflow Technology—Knowledge in Motion 97
Paul Head
Introduction 97
Technology Evolution 98
Foundations 98
Formalization 99
Trends Driving Workflow Automation 100
Business: Economy and Efficiency 101
Facilities: Business Objectives and Environmental Awareness 102
Workflow Explained 103
Types 103
Transactional Activities 103
Systematic Activities 104
Guidelines 105
FM Community Workflow Technology Case Studies 106
Facilities Move Management 107
Vendor Bid and Selection Management 108
Knowledge in Motion 112
PART 2: Applications
CHAPTER 8 Sustainability 115
Louise A. Sabol
Overview 115
Sustainability for Buildings 116
Certification for Sustainability 116
ENERGY STAR Building Certification 118
Assessment and Planning 118
Software for Sustainable Facilities Management 120
The Importance of Visualization 121
Life-Cycle Cost Analysis 123
CarbonGreenhouse Gas Calculations 125
Enterprise Software Applications 126
Energy Analysis Tools and Applications 126
Building Information Model 127
The Future 129
Management of Sustainability 129
Building Performance and Monitoring 129
Building Commissioning 130
Data Management 130
Case Study: The State of Missouri Building Information Management System 130
Project Details 131
Project Results 132
Further Development 133
CHAPTER 9 Condition Assessment in Facility Asset Management 137
James B. Clayton
Background 137
Asset Management 138
Adapting Asset Management Principles to Facilities Management 141
Phases of the Facility Asset Management Process 142
Phase 1: Executive Direction 142
a. Goals and Policies 142
b. Standards 142
c. Schedules 142
Phase 2: Collect Data and Compute Metrics 143
Phase 3: Create Business Intelligence 143
Phase 4: Support Decision Making 143
Condition Assessment in Facility Asset Management 144
Overview of Facility Condition Assessment 144
Building Condition Assessment Methods and Techniques 145
Origin of the Monetary Method for Building Condition Assessment 146
Foundation of the Monetary Method: Backlog and FCI 146
The Deficiency-Based Technique 149
Phases of the Deficiency-Based Technique 150
Phase 1: Executive Direction 150
Phase 2: Collect Data and Compute Metrics 150
Phase 3: Create Business Intelligence 152
Dissatisfaction with the Expense of Deficiency-Based Techniques 152
Description of the Rating-Based Technique 154
Description of the Inventory-Based Technique 156
Dissatisfaction with the Monetary Method Spurs Research 158
The Engineered Method—Product of Published Government Research 159
Differences between Knowledge-Based and Deficiency-Based Techniques 160
Phase 1: Executive Direction 162
Phase 2: Collect and Process Data 163
Additional Benefits of the Engineered Method 165
Deciding Which Technique Is Best for Your Organization 166
Organizations that Should Consider Using the Deficiency-Based Technique 168
Organizations that Should Consider Using Rating-Based or Inventory-Based Techniques 168
Organizations that Should Consider Using the Engineered Method 169
Conclusion 169
CHAPTER 10 Computer Modeling 171
Eric Teicholz
Introduction 171
Computer Models and Simulation – A Brief Overview 171
Simulation 172
Models in Facility Management 173
Building Visualization: CAFM and BIM Models 173
Space Allocation Models 175
Desired Adjacency Requirements between Spatial Elements 175
Space Inventory Phase 176
Requirements Phase 176
Allocation Phase 177
Planning Phase 178
Facility Asset Management Models 179
Computer Models that Make FAM Data Collection More Affordable 180
Creating Physical Characteristic Data with Building Templates 180
Using Templates to Create Whole Facility Inventories 180
Using Templates to Create System Inventories 181
Generating Lean, "Just-in-Time" Data Collection Schedules 182
Models that Efficiently Compute FAM Metrics 183
Performance Metrics 183
Business Alignment Metrics 184
Models that Create Business Intelligence from Computed Metrics and Other Data 185
FAM Modeling Summary 185
Energy Models 185
Conclusion 190
CHAPTER 11 Technology and the Workplace 191
Erik Jaspers and Eric Teicholz
Introduction 191
Definition of Workplace 192
Wireless Networking 194
Current Workplace Issues 195
Involvement of Facility Managers 197
Technology Landscape 200
CAFMIWMSCMMS Systems 200
Building Information Modeling 200
Building Automation Systems 205
Access and Security Management Systems 206
Geographic Information Systems 207
Digital Signage 212
Sustainability and Energy Management at the Workplace 213
Emerging Technologies 217
Smart Infrastructures 217
Applications of Sensor Networking Around the Workplace 218
Energy Management: Smart Grids 222
Cloud Computing 223
Radio Frequency Identification 224
Mobility 226
Conclusion 227
CHAPTER 12 The Role of People and Process in Technology 229
Angela Lewis
Introduction 229
Energy and Maintenance Management Technologies 230
Current Needs 231
Process Needs 231
Establishing Project Goals 232
Beyond Benchmarking: A Need for Data-Driven Decision Making 235
People and Technology Needs 236
Overcoming Resistance to Change 236
Training and Education 237
Processes and People Need to Support Emerging Technologies 237
Impacts of Process on Building Information Modeling 238
High-Performance, Green, and Smart Buildings Require Data-Driven Processes 238
Case Studies 239
A Focus on Processes: Use of a Building Automation System to Benchmark Energy Consumption 239
A Focus on People: Software Integration 241
Conclusion 243
CHAPTER 13 Social Media 245
Dean Stanberry
Introduction 245
Social Media: Revolution or Evolution? 245
Getting Connected 247
Information Services Rise Up 248
Birth of the World Wide Web 248
Web 1.0 → Web 2.0 250
FM-Focused Social Media 251
Print Media Goes Digital 252
Internet Forums 254
Blogs 256
Wikis 260
Podcasts, Video, Pictures, Rating, and Social Bookmarking 261
Section Notes 262
Making Social Media Work for You 262
Why Does It Matter? 262
Which Ones Are for Me? 264
What If I Don't Want to be Found? 264
Have a Networking Strategy 265
Get LinkedIn and Like it. . . 266
Building Your Network 268
LinkedIn Facts 268
Tips for Job Seekers 271
Closing Thoughts 272
GLOSSARY 273
INDEX 287