Technology of Bottled Water, 3rd Edition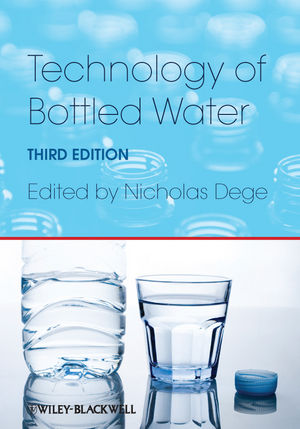 Technology of Bottled Water, 3rd Edition
ISBN: 978-1-444-39332-3 March 2011 Wiley-Blackwell 464 Pages
Description
The fully revised third edition of this unique and comprehensive overview of the science and technology of the bottled waters industry contains brand new chapters which address these new developments. As well as an updated introductory chapter reviewing the market, the degree to which the global legislative and regulatory picture has changed is examined, and new and increasingly-used quality standards are assessed. The book provides a definitive source of reference for all those involved in bottled water production: beverage technologists, packaging technologists, analytical chemists, microbiologists and health and safety personnel.
Table of contents
Preface.
Contributors.
1 Introduction (Nicholas Dege).
1.1 Background.
1.2 The third edition.
2 Market Development of Bottled Waters (Duncan Finlayson).
2.1 Introduction.
2.2 The historical background.
2.3 Market segmentation.
2.4 Global giants and local leaders.
2.5 Global review.
2.6 USA.
2.7 West Europe into the new millennium.
2.8 China.
2.9 Bottled water and the environment.
2.10 Flavoured and functional waters.
2.11 Trends for the future.
3 Categories of Bottled Water (Nicholas Dege).
3.1 Introduction.
3.2 Europe.
3.3 North America.
3.4 Codex Alimentarius.
3.5 Russia.
3.6 Latin America.
3.7 Australia and New Zealand.
3.8 Asia.
3.9 South Africa.
3.10 Conclusions.
4 Hydrogeology of Bottled Waters (Mike Streetly, Rod Mitchell, Melanie Walters and Peter Ravenscroft).
4.1 Introduction.
4.2 Understanding underground water – Hydrogeology.
4.3 Groundwater quality.
4.4 Groundwater source development.
4.5 Management of groundwater sources.
4.6 Protecting groundwater quality.
5 Water Treatments (Jean-Louis Croville, Jean Cantet and Sébastien Saby).
5.1 Why and when water must be treated.
5.2 Water treatment objectives.
5.3 Water treatment processes.
5.4 Conclusions.
6 Bottling Water – Maintaining Safety and Integrity through the Process (Dorothy Senior and Nicholas Dege).
6.1 The nature of water.
6.2 Influencing factors.
6.3 Labelling.
6.4 Shelf- life, batch coding and traceability.
6.5 Hygiene and good manufacturing practices.
7 Bottle Manufacture and Filling Equipment (Manfred Faltermeier).
7.1 Introduction.
7.2 PET bottles – one of the most important packages for water.
7.3 Filling technology.
7.4 Carbonation and flavour addition prior to filling.
8 Cleaning and Disinfection in the Bottled Water Industry (Winnie Louie and David Reuschlein).
8.1 Introduction.
8.2 Cleaners (detergents).
8.3 Sanitizers.
8.4 Types of cleaning and basics.
8.5 Cleaning in place (CIP).
8.6 General guidelines for conducting a cleaning and sanitation validation.
8.7 The do's and don'ts of cleaning and disinfection.
9 Quality Management (Dorothy Senior and Nicholas Dege)
9.1 Introduction.
9.2 Defining quality.
9.3 Quality policy.
9.4 Food safety standards and hazard analysis critical control point.
9.5 Process control.
9.6 Quality assurance.
9.7 Independent or government laboratories.
9.8 Recognition of source.
9.9 Industry networking.
10 Bottled Watercoolers (Michael Barnett).
10.1 Introduction.
10.2 World markets.
10.3 Equipment development.

10.4 Water categories for watercoolers.
10.5 The bottling process.
10.6 Handling, transportation and service.
10.7 Hygiene.
10.8 Trade associations.
11 Third-Party Auditing of Bottled Water Operations (Bob Tanner).
11.1 Introduction.
11.2 Conduct of audits.
11.3 Setting the criteria for the audit.
11.4 The bottling plant audit.
11.5 Conclusion of audit and follow-up actions.
12 Microbiology of Natural Mineral Waters (Henri Leclerc and Milton S. da Costa).
12.1 Introduction.
12.2 Groundwater habitat.
12.3 Bottle habitat.
12.4 Microbial community.
12.5 Inhibitory effect of autochthonous bacteria.
12.6 Assessing health risk from autochthonous microflora.
12.7 Assessment and management of microbial health risks.
12.8 Conclusion.
13 Microbiology of Treated Bottled Water (Stephen C. Edberg and Manuel A. Chaidez).
13.1 Introduction.
13.2 Source water protection and monitoring.
13.3 Water treatment.
13.4 Naturally occurring bacteria.
13.5 Product safety.
13.6 Summary.
14 Formulation and Production of Flavoured and Functional Waters (Fred Jones).
14.1 Introduction.
14.2 Composition.
14.3 Formulation.
14.4 Production.
14.5 On sale.
14.6 New and developing technologies.
14.7 Conclusions.
15 Environment (Tod D. Christenson and John V. Stier).
15.1 Introduction.
15.2 Environmental standards.
15.3 Expectations for corporate environmental stewardship.
15.4 Bottled water value chain.
15.5 Life-cycle assessment methodologies.
15.6 Primary environmental issues.
15.7 Water resources.
15.7.1 Water use and conservation practices.
15.7.2 Water-related business risks.
15.7.3 Water footprinting.
15.8 Climate change and energy.
15.9 Solid waste management.
15.10 Beverage industry environmental roundtable.
15.11 Closing.
Index
A color plate section.