Ted Turner Speaks: Insights from the World's Greatest Maverick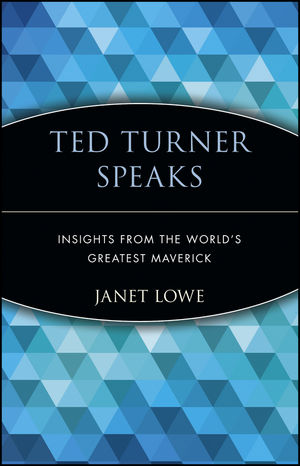 Ted Turner Speaks: Insights from the World's Greatest Maverick
ISBN: 978-0-471-34563-3
Nov 1999
230 pages
Description
As the brainchild behind the Cable News Network, Ted Turner revolutionized the television industry by introducing a 24-hour news station. Dubbed "Terrible Ted" for his apparent disregard for the rules, he turned sharp business savvy into a global communications empire that has made him one of the wealthiest-and most powerful figures in the business. This unique biography, the latest in the bestselling Speaks series, presents the different shades of this colorful personality by bringing together original Turner quotes from newscasts, interviews, and articles.

Janet Lowe (Del Mar, CA) is the author of the bestselling /Ispeaks/N series, including /IWarrenBuffett Speaks, Jack Welch Speaks, Bill Gates Speaks,/N and /IOprah Winfrey Speaks./N Shehas written for /Inewsweek/N, the /ILos Angeles Times/N, and the /IChristian Science Monitor./N
Partial table of contents:

LESSONS FROM SAILING.

Fastnet.

Keep Going.

Fight Like an Underdog.

Have Fun.

A SCARED, SCRAPPY KID.

Ed's Boy.

The Terrible Cadet.

Jimmy Brown.

The Brief Goodbye.

IT'S ADVERTISING, STUPID.

Learn as You Go.

Accept No Limits.

THE BRAT WHO ATE ATLANTA.

Redefine the Question.

I Was Cable When Cable Wasn't Cool.

SEIZE THE TECHNOLOGY.

Changing Television Forever.

Ride the Leading Edge.

A SPORTS EMPIRE.

Throwing Heat.

The Goodwill Games.

THE NEXT BIG THING.

Challenge Up.

Time-Warner.

THE TURNER STYLE.

Study the Past, Live in the Future.

Power.

Fame.

THE DEMON WITHIN.

Feeling a Little Wacko.

A High Maintenance Guy.

FAMILY VALUES.

She Ain't Much, But She's All I Got.

Doing the Right Thing.

THE RETURN TO IDEALISM.

I Love Everything.

Give Me Land, Lots of Land.

The Quest for Peace.

One Billion at a Time.

Life is Nice.

Time Line.

End Notes.