Television in the Multichannel Age: A Brief History of Cable Television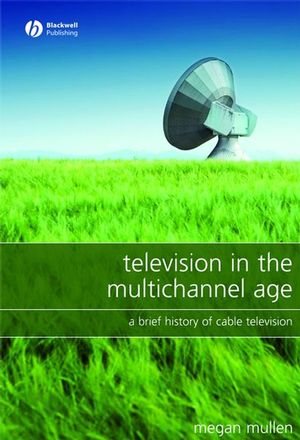 Television in the Multichannel Age: A Brief History of Cable Television
ISBN: 978-1-405-14969-3 February 2008 Wiley-Blackwell 252 Pages
Description
Television in the Multichannel Age is a comprehensive, multidisciplinary approach to the history of multichannel television in all its forms – from cable to direct-to-home satellite and beyond. Chapter by chapter, the book traces the evolution of cable television from its pre-historical origins in the late 1940s to the communications satellites and DBS distribution systems of the modern digital age, both in the U.S. and internationally.



Guides the reader through the history of multichannel television from its origins in the '40s to the modern age

Discusses factors that influence today's television landscape including government policy-making, emerging technologies, and the public's programming tastes

Concentrates on domestic multichannel technologies while considering global impacts of these technologies

Includes newly discovered oral history transcripts, personal interviews, government documents, and never before seen photographs

Presents a fascinating history of media that have come to play critical roles in today's society, and in doing so invites the reader to speculate on the future of multichannel television
List of Illustrations.
Preface.
1. Introduction.
2. Cable Pre-history and the Community Antenna Pioneers: before 1960.
3. Regulatory Beginnings: 1960-7.
4. "Blue Sky": 1968-74.
5. Cable Meets Satellite: 1975-80.
6. The Satellite Years: 1980-92.
7. Multichannel Television's Mature Years: 1993-Present.
8. The View from 2007: The Future of Multichannel Television.
Bibliography.
Index.
"Megan Mullen tells the story of American cable television the way it should be told: small-town start-ups, daring entrepreneurs, rising media moguls, unexpected outcomes of media regulation, new communication technologies, proliferation of viewing choices, and ever-growing audiences.
Television in the Multichannel Age
is top-notch scholarship that is also and immensely useful reading for students in the classroom."
--
Jim Schwoch, Northwestern University
"The author … has done a good job of condensing sixty years of cable history into a tight, well-organized summary. An excellent overview of the industry." Television Quarterly<!--end-->

"Mullen writes in an accessible style, tackles both technical and business history, and adds a dash of colorful business people. She also wisely includes international developments as a counterpoint to this very American story. Recommended." Choice

"Mullen writes in an accessible style, tackles both technical and business history, and adds a dash of colorful business people. She also wisely includes international developments as a counterpoint to this very American story." R.W. Morrrow, Morgan State University


Guides the reader through the history of multichannel television from its origins in the '40s to the modern age

Discusses factors that influence today's television landscape including government policy-making, emerging technologies, and the public's programming tastes

Concentrates on domestic multichannel technologies while considering global impacts of these technologies

Includes newly discovered oral history transcripts, personal interviews, government documents, and never before seen photographs

Presents a fascinating history of media that have come to play critical roles in today's society, and in doing so invites the reader to speculate on the future of multichannel television