Tell Me What Happened: Questioning Children About Abuse, 2nd Edition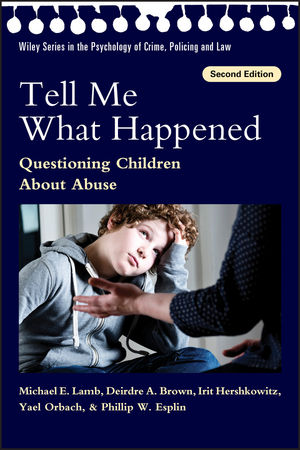 Tell Me What Happened: Questioning Children About Abuse, 2nd Edition
ISBN: 978-1-118-88124-8
Aug 2018, Wiley-Blackwell
344 pages
Description
Represents a scholarly and ambitious attempt to improve the quality of interviews received by the courts and minimize the risks of miscarriages of justice, for victims and defendants
This book updates the previous review of research on children's testimony—reexamining and readdressing how the quality of information provided by young witnesses is affected by the way they are questioned. Drawing upon both experimental and field studies conducted in different countries, it summarizes evidence supporting the effectiveness of the National Institute for Child Health and Human Development (NICHD) Protocol and showcases the Protocol's superiority over other current interviewing techniques for eliciting detailed and forensically useful content from child complainants.
Written with both child protection professionals and researchers in mind, Tell Me What Happened: Structured Investigative Interviews of Child Victims and Witnesses offers advice and opinions drawn from actual investigative interviews as well as academic research. Its insightful chapters cover: children's testimony; interview and questioning strategies; how investigators typically interview alleged victims; the NICHD Investigative Interview Protocols; the impact that following the Protocol has on interviews and children's responses; interviewing victims under the age of six; interviewing children with developmental disabilities; using tools and props to complement the Protocol; training and maintaining good interviewing practices; and more.
Provides a primary source of guidance practitioners and professionals involved in child protection
Updates guidance for interviewers by adding consideration of emotional and motivational factors to better understand children's behavior during interviews
Integrates the substantial body of research published over the last decade and reflects upon questions that the field should continue to address
Tell Me What Happened: Structured Investigative Interviews of Child Victims and Witnesses deserves to be read by all practitioners involved in child protection, whether as investigators, interviewers, judges, or lawyers.
About the Authors
Series Preface
Preface
Chapter 1 Interviewing children about abuse: An overview and introduction
Chapter 2 Contributions to children's testimony: The child and the event
Chapter 3 Contributions to testimony: Preparation for the interview and questioning strategies
Chapter 4 How do investigators typically Interview alleged victims?
Chapter 5 The NICHD Investigative Interview Protocols for young victims and witnesses
Chapter 6 When interviewers follow the Protocol, what impact does it have on their interviewing and on children's responding?
Chapter 7 Interviewing suspected victims under six years of age
Chapter 8 Interviewing children with developmental disabilities
Chapter 9 The Revised Protocol: effectively supporting reluctant witnesses
Chapter 10 Using tools and props to complement the Protocol
Chapter 11 Training and maintaining good interviewing practice
Chapter 12 Case-related outcomes when the Protocol is used
Chapter 13 Progress to date and the challenges ahead
References