Temporal Rhythms in Adolescence: Clocks, Calendars, and the Coordination of Daily Life: New Directions for Child and Adolescent Development, Number 82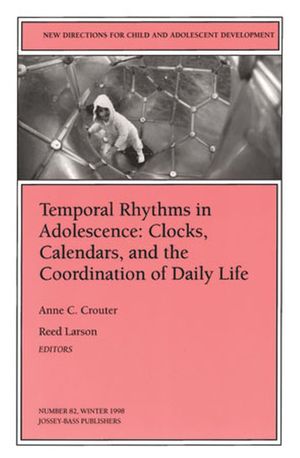 Temporal Rhythms in Adolescence: Clocks, Calendars, and the Coordination of Daily Life: New Directions for Child and Adolescent Development, Number 82
ISBN: 978-0-787-91249-9 December 1998 Jossey-Bass 92 Pages
Description
This sourcebook delves into the way the clock and the calendar structure the lives of adolescents, their families, and their peer groups. The authors use a variety of research methods, including time sampling and ethnography, to examine distinct patterns of adolescent behavior and emotions across the school day, on weekdays and weekends, and during the school year versus during the summer.

Their research shows some of the forces that give rise to the temporal rhythms in adolescents' lives, including physiological, family, and community processes. Their findings also uncover the role of temporal patterns in shaping parent-child relations, peer interactions, and problem behavior in adolescence.

Finally, the volume emphasizes that community planners, schools, youth leaders, and others charged with organizing the contexts in which adolescents develop need to understand these rhythms to effectively meet the needs of adolescents.

This is the 82nd issue of the quarterly journal New Directions for Child and Adolescent Development.
1. Neighborhood Rhythms and the Social Activities of Adolescent Mothers(Linda M. Burton, Joan E. Graham).
2. Ups and Downs: Daily Cylces of Adolescent Moods(Bonnie L. Barber, Kristen C. Jacobson, Kristelle E. Miller, Anne C. Petersen).
3. Waiting for the WeekAnd: Friday and Saturday Nights as the Emotional Climax of the Week(Reed Larson, Maryse Richards).
4. Weekly Rhythms of Parents' Work Stress, Home Stress, and Parent-Adolescent Tension(David M. Almeida, Daniel McDonald).
5. Seasonal and Weekly Rhythms: Windows into Variability in Family Socialization Experiences in Early Adolescence(Ann C. Crouter, Mary Corinne Maguire).
6. Implications for Policy and Practice: Getting Adolescents, Families, and Communities in Sync(Reed Larson).