Ten P's: Assessing Corporate Excellence: A Download from The 2003 Annual (Volume 2, Consulting)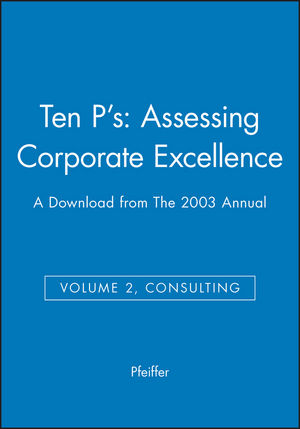 Ten P's: Assessing Corporate Excellence: A Download from The 2003 Annual (Volume 2, Consulting)
ISBN: 978-0-787-97019-2
May 2003, Pfeiffer
Description
In today?s competitive business environment, corporate excellence is no longer a long-term goal, but an imperative. The Ten P?s is a tool for understanding the attributes of corporate excellence and predicting when corporate excellence will be present. An 89-question assessment, scoring sheet, and data collection sheet are all included in this model for corporate excellence. Contributed by Biswajeet Pattanayak, Rajinish Kumar Misra, Phalgu Niranjana, and Sanjyot Pethe.

Important Information to Review Before Making This Download Purchase
Before purchasing a Pfeiffer Download, you will need Adobe Acrobat Reader Software. If you do not already have it installed on your computer, you may download this free software from the Adobe Web site at Adobe.com.

All Pfeiffer Downloads that you purchase from this site will come with specific restrictions that allow Pfeiffer to protect the copyrights of its products. Just before completing your purchase, you will be prompted to accept our License Agreement. If you do not accept the parameters of this agreement, your credit card will not be charged and your order will be cancelled.