Tendinopathy in Athletes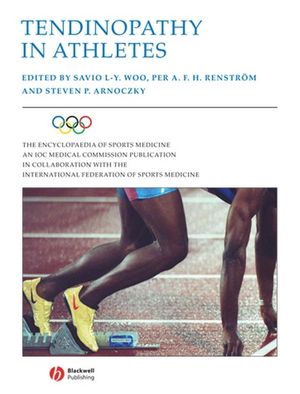 Tendinopathy in Athletes
ISBN: 978-0-470-75797-0 April 2008 Wiley-Blackwell 248 Pages
Description
This concise volume in the Encyclopaedia of Sports Medicine series, published under the auspices of the International Olympic Committee, provides a dependable source of current knowledge available on tendinopathy and covers both the basic science and clinical aspects of the subject.


Despite its high incidence, the precise etiopathogenesis and effective treatment of tendinopathy remain elusive. Tendinopathy in Athletes draws on the expertise of an international and prolific collection of contributors, both clinicians and scientists, who provide new insights into this specialized area.
This book:



provides a comprehensive resource for both clinicians and researchers with information organized logically, with an easy-to-follow progression from the basic scientific findings to clinical applications


discusses the full range of treatment modalities, including new molecular and biological approaches, plus surgical and alternative approaches to tendinopath


contains "What We Need to Know" sections that suggest future areas of research for young investigators.
As tendinopathy remains one of the most common injuries encountered, both in sports and at the workplace, this essential volume is sure to be a source of frequent consultation.
1 Tendinopathy: A Major Medical Problem in Sport.
Per A.F.H. Renström and Savio L-Y. Woo.
2 Etiology of Tendinopathy.
Jill L. Cook and Karim M. Khan.
3 The Molecular Biology of Tendinopathy: Signaling and Response Pathways in Tenocytes.
Albert J. Banes, Mari Tsuzaki, Michelle Wall, Jie Qi, Xi Yang, Donald Bynum, Spero Karas, David A. Hart, Allison Nation, Ann Marie Fox, and Louis C. Almekinders.
4 The Response of Tendon Cells to Changing Loads: Implications in the Etiopathogenesis of Tendinopathy.
Steven P. Arnoczky, Michael Lavagnino, and Monika Egerbacher.
5 How Alive are Tendons? Metabolic and Circulatory Activity Associated with Exercise in Humans.
Michael Kjær, Henning Langberg, Robert Boushel, Satu Koskinen, Benjamin Miller, Katja Heinemeier, Jens L. Olesen, Mette Hansen, Philip Hansen, and S. Peter Magnusson.
6 Human Tendon Overuse Pathology: Histopathologic and Biochemical Findings.
Alexander Scott, Karim M. Khan, Jill L. Cook, and Vincent Duronio.
7 Mechanobiologic Studies of Cellular and Molecular Mechanisms of Tendinopathy.
James H-C. Wang, Savio L-Y. Woo, Wei-Hsiu Hsu, and David A. Stone.
8 In Vivo Function of Human Achilles and Patella Tendons During Normal Locomotion.
Paavo V. Komi and Masaki Ishikawa.
9 Tendon Innervation: Understanding of Pathology and Potential Implications for Treatment.
Paul W. Ackermann, Johan Dahl, Daniel K-I. Bring, and Per A.F.H. Renström.
10 A Neuropathic Model to the Etiology and Management of Achilles Tendinopathy.
Nick Webborn.
11 An Integrative Therapeutic Approach to Tendinopathy: Biomechanic and Biological Considerations.
Louis C. Almekinders and Albert J. Banes.
12 The Chronic Painful Achilles Tendon: Basic Biology and Treatment—Results of the New Methods of Eccentric Training and Sclerosing Therapy.
Håkan Alfredson.
13 Hindfoot Tendinopathies in Athletes.
Francesco Benazzo, Mario Mosconi, Alberto Pio, and Franco Combi.
14 Alternative Approaches in the Management of Tendinopathies—Traditional Chinese Medicine: From Basic Science to Clinical Perspective.
Kai-Ming Chan.
15 Surgery for Chronic Overuse Tendon Problems in Athletes.
Deiary Kader and Nicola Maffulli.
Index
"The editors of the work coordinated the contributions of forty-seven specialists in medical, sports and health science related fields. Recommended for specialists in sports medicine and orthopedics and for medical libraries and academic libraries with kinesiology, physical therapy and sports medicine curriculum." (
E-Streams
, September 2008)
"This is a good read for those with a strong interest in tendinopathy...the book does provide a quality and in-depth summation of the current knowledge."
(Doodys Reviews)
A comprehensive resource of the current knowledge regarding the basic science and clinical aspects of tendinopathy


Provides a state of the art update on the epidemiology, pathogenesis, and treatment of this debilitating problem

Presents exciting new research exploring potential mechanical and molecular mechanisms in the etiology of tendinopathy

Includes chapters on innovative new treatment modalities

Each chapter presents insightful suggestions as to potential future areas of research in "what we need to know" sections

A "must have" text for any student, researcher, or clinician interested in tendinopathy