Teresa Weatherspoon's Basketball for Girls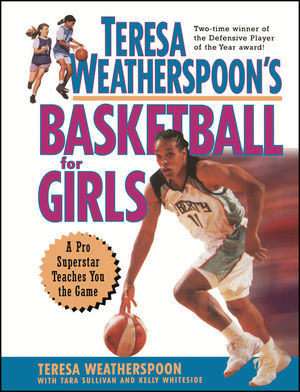 Teresa Weatherspoon's Basketball for Girls
ISBN: 978-0-471-31784-5 March 1999 Jossey-Bass 128 Pages
Description
Great news for the millions of young hoopsters dreaming of somedayrunning with the pros: two-time Olympian and professional starTeresa Weatherspoon is sharing all of her basketball secrets! Inthis fun and informative book, not only will you get the insidescoop on passing, dribbling, defending, shooting, and all the rulesof the game, you'll also learn why Spoon believes thatunselfishness, hard work, and a positive attitude are as valuableas technical skill.

With tons of instructional photos and heaping "Spoon"-fuls ofinspiration, personal history, and inside tips, TeresaWeatherspoon's Basketball for Girls delivers all the goods. In notime, you'll be tearing up the courts, burning up the nets, andshowing how it's really done!
Before You Start.

Dribbling.

Passing.

Shooting and Individual Offense.

Rebounding.

Individual Defense.

What Makes a Team Player.

Team Offense.

Team Defense.

Conditioning.

Appendix.

Glossary.

Credits.

Index.