Terror and the Postcolonial: A Concise Companion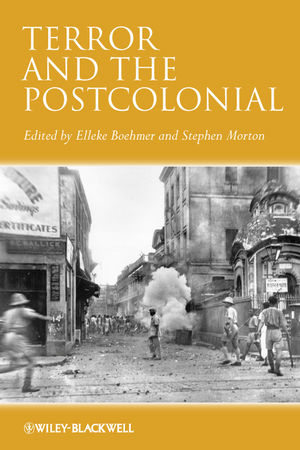 Terror and the Postcolonial: A Concise Companion
ISBN: 978-1-119-05619-5
Aug 2015
408 pages
Description
Terror and the Postcolonial is a major comparative study of terrorism and its representations in postcolonial theory, literature, and culture.
A ground-breaking study addressing and theorizing the relationship between postcolonial studies, colonial history, and terrorism through a series of contemporary and historical case studies from various postcolonial contexts
Critically analyzes the figuration of terrorism in a variety of postcolonial literary texts from South Asia, Africa, and the Middle East
Raises the subject of terror as both an expression of globalization and a postcolonial product
Features key essays by well-known theorists, such as Robert J. C. Young, Derek Gregory, and Achille Mbembe, and Vron Ware
Notes on Contributors.
Acknowledgments.
Introduction: Terror and the Postcolonial (Elleke Boehmer and Stephen Morton, University of Oxford and University of Southampton).
Part I: Theories of Colonial and Postcolonial Terror:
1. The Colony: Its Guilty Secret and Its Accursed Share (Achille Mbembe, University of Wiwatersrand).
2. Vanishing Points: Law, Violence, and Exception in the Global War Prison (Derek Gregory, University of British Columbia).
3. The White Fear Factor (Vron Ware, Open University).
4. Sacrificial Militancy and the Wars around Terror (Alex Houen, University of Sheffield).
5. Postcolonial Writing and Terror (Elleke Boehmer, University of Oxford).
Part II: Histories of Post/colonial Terror:
6. Revolutionary Terrorism in British Bengal (Peter Heehs, Independent Scholar).
7. Excavating Histories of Terror: Thugs, Sovereignty, and the Colonial Sublime (Alex Tickell, University of Portsmouth).
8. Terrorism, Literature, and Sedition in Colonial India (Stephen Morton, University of Southampton).
9. Israel in the US Empire (Bashir Abu-Manneh, Barnard College).
10. The Poetics of State Terror in Twenty-first-century Zimbabwe (Ranka Primorac, University of Southampton).
11. The Mediation of ""Terror"": Authority, Journalism, and the Stockwell Shooting (Stuart Price, De Montfort University).
Part III: Genres of Terror:
12. Terror Effects (Robert J. C. Young, New York University).
13. ""Gendering"" Terror: Representations of the Female ""Freedom Fighter"" in Contemporary Sri Lankan Literature and Cultural Production (Neluka Silva, University of Colombo).
14. Terror, Spectacle, and the Secular State in Bombay Cinema (Sujala Singh, University of Southampton).
15. ""The age of reason was over . . . an age of fury was dawning"": Contemporary Fiction and Terror (Robert Eaglestone. University of London).
16. Bodies of Terror: Performer and Witness (Emma Brodzinski, University of London).
Index.
""This is a book written by academics but is perfectly suitable for the average reader.  The text is not too dry or overburdened with longwinded narrative, but is thought provoking and image-shattering.  Terror and the Postcolonial will take the wind out of the sails of anyone who believes we live in a world where terrorism is the sole property of extremists, religious zealots and bigots.  Terrorism has been around for much longer than since 9/11 and it is about time someone had the courage to admit our part in it."" (M/C Reviews, November 2010)


A ground-breaking new study addressing and theorizing the conjunction between postcolonial studies, colonial history, and terrorism through a series of contemporary and historical case studies from various postcolonial contexts
Critically analyzes the figuration of terrorism in a variety of postcolonial literary texts from South Asia, Africa, and the Middle East
Raises the subject of terror as both an expression of globalization and a postcolonial product
Features key essays by well-known theorists, such as Robert J. C. Young, Derek Gregory, and Achille Mbembe, and Vron Ware