Terry Eagleton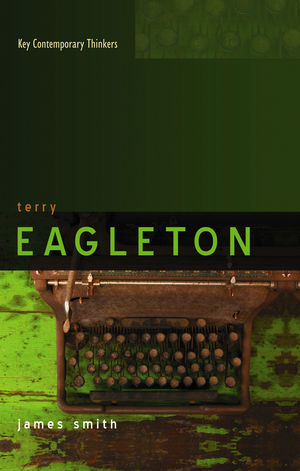 Terry Eagleton
ISBN: 978-0-745-65795-0 April 2013 Polity 200 Pages
Description
Terry Eagleton is one of the most influential contemporary literary theorists and critics. His diverse body of work has been crucial to developments in cultural theory and literary critical practice in modern times, and for a generation of humanities students his writing has been a source of both provocation and enjoyment.
This book undertakes a lucid and detailed analysis of Eagleton's oeuvre. It gives close attention to the full range of Eagleton's major publications, examining their arguments and implications, as well as how they have intervened in wider debates in cultural theory. It also investigates his less familiar works, such as his early writing on the Catholic left, as well as other as yet unpublished material, showing how these works can be understood alongside the more prominent areas of his thought.
Through this, this book offers a cohesive overview of Eagleton's career to date, tracing the development of his theoretical positions, and an assessment of Eagleton's wider contributions to fields such as Marxist literary criticism and cultural theory. It will be essential reading for students of literary criticism, cultural theory, and intellectual history.
Table of contents
List of abbreviations viii
Introduction 1
1 Eagleton and the Catholic Left 9
2 From Williams to Althusser: Eagleton's Early Literary Criticism 32
3 The Critic as Azdak: Eagleton in the 1980s 59
4 The Ideology of the Postmodern 93
5 Nationalism, Socialism, and Ireland 117
6 The Full Circle? 140
Notes 168
Index 183
Reviews
"Smith deftly weaves the historical background, academic arguments, and literary schools of thought together in tracing Eagleton's lengthy and diverse publications, while keeping his admiration for Eagleton carefully muted through a critical sensitivity. His writing is a pleasure to read: crisp, clear, and with a sense of momentum."
Literature and Theology
"As a differentiating and circumspect writer who pays as much attention to his subject as to the larger context, Smith renders a nuanced account of Eagleton?s involved intellectual struggles."
Consciousness, Literature and the Arts
"Gives a comprehensive and lucid analysis of Eagleton's oevre and pays due attention to his early writings on the Catholic Left."
The Guardian readers' recommendations
"Smith offers a lucid account of Eagleton's work."
Times Literary Supplement
"This is the first full treatment of Terry Eagleton's work. And, since Eagleton has written three careers' worth of work, the book is remarkable for its effortless coverage. It's also remarkable for digging up Eagleton's early work on religion. If you want to find out about Eagleton's work, this book will be a standard."
Jeffrey Williams, Carnegie Mellon University
"An excellent introduction to the work of Terry Eagleton, which provides a fine-grained and wide-awake appraisal of the whole curve of his remarkable career ... Smith knows Eagleton?s work inside out, possibly by now even better than Eagleton himself, but his strongly informed sympathy with it does not inhibit him from articulating some sharp criticisms as well."
Stephen Connor, Birkbeck College