Testicular Chromosome Structure and Gene Expression, Volume 1120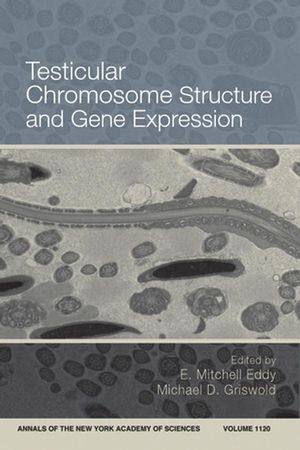 Testicular Chromosome Structure and Gene Expression, Volume 1120
ISBN: 978-1-573-31693-4
Jan 2008, Wiley-Blackwell
300 pages
Description
The 2005 Workshop, published as volume 1061 of the Annals, focused on testicular cell dynamics and brought an influx of new information into the field of male reproduction. Several laboratories have been actively investigating the endocrine signals between the germ and somatic cells of the testis, revealing previously unknown patterns of cell signaling and cell-to-cell communication in male reproductive tract tissues. Work in this area will provide an opportunity to analyze male reproductive biology and the processes by which sperm are formed in the seminiferous tubule and androgen is synthesized in the interstitium of the testis.


The different levels of organization in the testis, including the stages of spermatogenesis, enzymatic steps of steroidogenesis and the intracellular signaling pathways of hormones, are now more amenable for study and selection of potential targets for drug development. Capitalizing on these developments, the editors of this volume have chosen a roster of chapter contributors that is uniquely suited to stimulate research and development ideas among readers.


NOTE: Annals volumes are available for sale as individual books or as a journal. For information on institutional journal subscriptions, please visit www.blackwellpublishing.com/nyas.

ACADEMY MEMBERS: Please contact the New York Academy of Sciences directly to place your order (www.nyas.org). Members of the New York Academy of Science receive full-text access to the Annals online and discounts on print volumes. Please visit http://www.nyas.org/MemberCenter/Join.aspx for more information about becoming a member
Preface: Mitchell Eddy and Michael D. Griswold.
Part I: Genomics and Expression Profiling:.
1. Towards Understanding the Core Meiotic Transcriptome in Mammals and its Implications for Somatic Cancer: Frédéric Chalmel, Aurélie Lardenois, and Michael Primig.
2. Gene Expression During Development of Fetal and Adult Leydig Cells: Lei Dong, Renshan Ge, Scott A. Jelinsky, Joshua Finger , Daniel S. Johnston , Gregory S. Kopf , Chantal M. Sottas, and Matthew P. Hardy.
3. Identification of Testis-Specific Male Contraceptive Targets: Insights from Transcriptional Profiling of the Cycle of the Rat Seminiferous Epithelium and Purified Testicular Cells: Daniel S. Johnston, Scott A. Jelinsky, Yu Zhi, Joshua N. Finger, Gregory S. Kopf, and William W. Wright.
Part II: Stem Cells and Spermatogonia:.
4. Stem Cell Heterogeneity: Actual and Potential Stem Cell Compartments in Mouse Spermatogenesis: Shosei Yoshida, Yo-Ichi Nabeshima, and Toshinori Nakagawa.
5. Culture and Genetic Modification of Mouse Germline Stem Cells: Mito Kanatsu-Shinohara and Takashi Shinohara.
Part III: Regulation of Gene Expression:.
6. Regulation and Function of the Rhox5 Homeobox Gene: Zhiying Hu, James A. Maclean, Anjana Bhardwaj, and Miles F. Wilkinson.
7. Non-coding RNAs of the Mammalian Testis: The Meiotic Transcripts Nct1 and 2 Encode piRNAs: Naoko Iguchi, Mingang Xu, Tamaki Hori, and Norman B. Hecht.
8. Promoters, Insulators and Regulation of Testis-specific Gene Transcription: Prabhakara P. Reddi, Craig J. Urekar, Mayuresh M. Abhyankar, and Sandeep A. Ranpura.
Part IV: Somatic Cells of the Testis:.
9. Sox8 and Sertoli Cell Function: Claire L. Kennedy, Peter Koopman, Yuji Mishina, and Moira K. O'Bryan.
10. Potential Functions of Retinoic Acid Receptor Alpha in Sertoli Cells and Germ Cells During Spermatogenesis: Timothy J. Doyle, Kirt W. Braun, Derek J. McLean, Raymond W. Wright, Michael D. Griswold, and Kwan Hee Kim.
11. Role of Connexin 43 in Sertoli Cells of Testis: Santhi Sridharan, Ralph Brehm, Martin Bergmann, and Paul S. Cooke.
12. ETV5 is Required for Continuous Spermatogenesis in Adult Mice and May Mediate Blood-Testes Barrier Function and Testicular Immune Privilege: Carla M. K. Morrow, Chris E. Hostetler, Mike D. Griswold, Marie-Claude Hofmann, Kenneth M. Murphy, Paul S. Cooke, and Rex A. Hess.
13. Testicular Morphogenesis: Comparison of In Vivo and In Vitro Models to Study Male Gonadal Development: Kathrin Gassei and Stefan Schlatt.
Part V: Clinical Correlates:.
14. From Gonocytes to Testicular Cancer: The Role of Impaired Gonadal Development: Ewa Rajpert-De Meyts and Christina E. Hoei-Hansen.
15. The Role of Dead-End in Germ Cell Tumor Development: Zhu Rui, Chitralekha Bhattacharya, and Angabin Matin.
16. Chromosomes and Expression in Human Testicular Germ Cell Tumors: Insight into Their Cell of Origin and Pathogenesis: Leendert H.J. Looijenga, Ad J. M. Gillis, Hans J. Stoop, Remko Hersmus, and J. Wolter Oosterhuis