Textbook in Psychiatric Epidemiology, 2nd Edition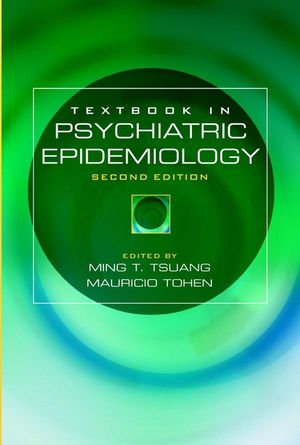 Textbook in Psychiatric Epidemiology, 2nd Edition
ISBN: 978-0-471-46121-0
Apr 2003
736 pages
Description
The new edition of this critically praised text continues to provide the most comprehensive overview of the concepts, methods, and research advances in the field. It has been revised and enhanced to capitalize on the strengths of the first edition while keeping it up-to-date in the field of psychiatry. This comprehensive publication now includes new chapters on child psychiatry, community studies, and perinatal studies.
Contributors.

Preface.

PART I: STUDY DESIGNS AND METHODS.

Chapter 1. Introduction to Epidemiologic Research Methods (J. Fleming and C.-C. Hsieh).

Chapter 2. Analysis of Categorized Data: Use of the Odds ratio as a Measure of Association (S. Hillis and R. Woolson).

Chapter 3. Methods in Psychiatric Genetics (S. Faraone, et al.).

Chapter 4. Reliability (P. Shrout).

Chapter 5. Validity: Definitions and Applications to Psychiatric Research (J. Goldstein and J. Simpson).

Chapter 6. Mental Health Services Research (J. Burke, Jr.).

Chapter 7. The Pharmacoepidemiology of Psychiatric Medications (P. Wang, et al.).

Chapter 8. Peering into the Future of Psychiatric Epidemiology (E. Susser, et al.).

PART II: ASSESSMENT.

Chapter 9. Studying the Natural History of Psychopathology (W. Eaton).

Chapter 10. The Developmental Edpidemiology of Psychiatric Disorder (M. Cannon, et al.).

Chapter 11. Birth and Development of Psychiatric Interviews (L. Robins).

Chapter 12. Symptom Scales and Diagnostic Schedules in Adult Psychiatry (J. Murphy).

Chapter 13. DSM-IV and Psychiatric Epidemiology (M. First).

Chapter 14. The National Comorbidity Survey (R. Kessler and E. Walters).

PART III: EPIDEMIOLOGY OF MAJOR PSYCHIATRIC DISORDERS.

Chapter 15. Epidemiology of Psychosis with Special Reference to Schizophrenia (E. Bromet, et al.).

Chapter 16. Epidemiology of Depressive and Anxiety Disorders (E. Horwath, et al.).

Chapeter 17. Epidemiology of Bipolar Disorder (M. Tohen and J. Angst).

Chapter 18. The Epidemiology of First-Onset Mania (T. Lloyd and P. Jones).

Chapter 19. Epidemiology of Alcohol Use, Abuse, and Dependence (N. Day and G. Homish).

Chapter 20. Epidemiology of Drug Dependence (J. Anthony, with J. Helzer).

Chapter 21. Personality Disorders: Epidemiological Findings, Methods and Concepts (M. Lyons and B. Jerskey).

PART IV: EPIDEMIOLOGY OF SPECIAL POPULATIONS.

Chapter 22. Epidemiology and Geriatric Psychiatry (C. Hybels and D. Blazer).

Chapter 23. The Epidemiology of Child and Adolescent Mental Disorder (S. Buka, et al.).

Chapter 24. Epidemiology of Mood and Anxiety Disorders in Children and Adolescents (K. Merikangas and S. Avenevoli).

Index.
"...remains in a class by itself. No other book...addresses the subject matter as completely and directly..." (Doody?s Electronic Journal, December 10, 2002)