Textbook of Biochemistry with Clinical Correlations, 7th Edition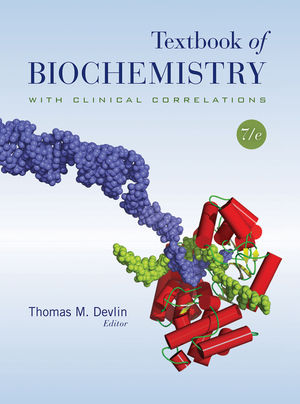 Textbook of Biochemistry with Clinical Correlations, 7th Edition
ISBN: 978-0-470-60976-7
Jun 2010
1240 pages
Description
This book presents a clear and precise discussion of the biochemistry of eukaryotic cells, particularly those of mammalian tissues, relates biochemical events at a cellular level to the subsequent physiological processes in the whole animal, and cites examples of abnormal biochemical processes in human disease.  The organization and content are tied together to provide students with the complete picture of biochemistry and how it relates to human diseases.
PART I STRUCTURE OF MACROMOLECULES.
Chapter 1 Eukaryotic Cell Structure (Thomas M. Devlin).
Chapter 2 DNA and RNA: Composition and Structure (Stephen A. Woski and Francis J. Schmidt).
Chapter 3 Proteins I: Composition and Structure (Richard M. Schultz).
PART II TRANSMISSION OF INFORMATION
Chapter 4 DNA Replication, Recombination, and Repair (Howard J. Edenberg).
Chapter 5 RNA: Transcription and RNA Processing (Frank J. Schmidt and David R. Setzer).
Chapter 6 Protein Synthesis: Translation and Posttranslational Modifications (Dohn Glitz).
Chapter 7 Recombinant DNA and Biotechnology (Gerald Soslau).
Chapter 8 Regulation of Gene Expression (Daniel L. Weeks and John E. Donelson).
PART III FUNCTIONS OF PROTEINS.
Chapter 9 Proteins II: Structure-Function Relationships in Protein Families (Richard M. Schultz).
Chapter 10 Enzymes: Classification, Kinetics, and Control (Henry Weiner).
Chapter 11 The Cytochromes P450 and Nitric Oxide Synthases (Linda J. Roman and Bettie Sue Siler Masters).
Chapter 12 Biological Membranes: Structure, Receptors, and Solute Transport (Thomas M. Devlin).
Chapter 13: Fundamentals of Signal Transduction (George R. Dubyak).
PART IV METABOLIC PATHWAYS AND THEIR CONTROL.
Chapter 14 Bioenergetics, Mitochondria, and Oxidative Metabolism (Diana S. Beattie).
Chapter 15 Carbohydrate Metabolism I: Major Metabolic Pathways and Their Control (Robert A. Harris).
Chapter 16 Carbohydrate Metabolism II: Special Pathways and Glycoconjugates (Nancy B Schwartz).
Chapter 17 Lipid Metabolism I: Synthesis, Storage, and Utilization of Fatty Acids and Triacylglycerols (Martin D. Snider, J. Denis McGarry, and Richard W. Hanson).
Chapter 18 Lipid Metabolism II: Pathways of Metabolism of Special Lipids (Robert H. Glew).
Chapter 19 Amino Acid and Heme Metabolism (Marguerite W. Coomes).
Chapter 20 Purine and Pyrimidine Nucleotide Metabolism (Joseph G. Cory and Ann H. Cory).
Chapter 21 Metabolic Interrelationships (Robert A. Harris and David W. Crabb).
Chapter 22 Biochemistry of Hormones (Thomas J. Schmidt).
PART V PHYSIOLOGICAL PROCESSES
Chapter 23 Molecular Cell Biology (Thomas E. Smith).
Chapter 24 Cell Cycle, Programmed Cell Death and Cancer (Richard M. Schultz).
Chapter 25 Digestion and Absorption of Basic Nutritional Constituents (Ulrich Hopfer).
Chapter 26 Vitamins and Minerals: Requirements and Function (Stephen G. Chaney).
Chapter 27 Macronutrients: Metabolic Effects and Health Implications (Stephen G. Chaney).
Appendix: Review of Organic Chemistry (Carol N. Angstadt).
Glossary (Francis Vella).
Index.
Revised Chapter 12, Biological Membranes: Structure, Receptors, and Solute Transport present solute transport in accordance with the current understanding, classification, and nomenclauter of the field. Examples of mechanisms are presented under the individual classifications of transport mechanism. A new section presenting the general information about receptors was added.
Heme coverage is now presented along with the discussion of amino acid metabolism in Chapter 19, Amino Acid and Heme Metabolism, This new placement of the material in a chapter with an emphasis on nitrogen metabolism is common in most biochemical textbooks.
New Chapter 26, Vitamins and Minerals consolidates material and reflects the increasing knowledge about the role of these micronutrients in other than their classical activities.
In addition, every chapter has been updated with the latest information and correlations:
Update of discussion of cellular componenets: information on specific components waws included in various chapters.
Expanded coverage of epigenetic regulation.
Updated coverage of micro RNAs: synthesis and function.
Expanded dynamics of protein structure coverage, including a discussion of unstructured proteins.
Updated cell-cell and cell-matrix adhesion mechanism coverage.
Extensive updating of enzyme mechanisms and pathway regulation coverage.
Key Concepts at the beginning of each chapter to assist the reader in identifying major points in a discussion of pathways and processes.
Key terms are now listed as a study aid at the end of each chapter.
A Closer Look boxes focus on descriptive cell biology, practical, and other information pertaining to a biochemical topic. This approach maintains the primary focus of the biochemistry text.
Approximately 50% new end of chapter questions has been included.
The Bibliography has been updated with additional references to journal articles athat are readily available on the Web; many additional references to Web sites are also included.
Contains multiple choice questions at the end of each chapter to test knowledge of the topic  (50% new)
Includes a concise appendix reviewing important organic chemistry concepts
Includes a glossary of important terms
Contains detailed, full-color illustrations that clearly explain the associated concepts.
Contains pertinent biochemical abbrevations and normal clinical laboratory values for blood and urine.