Textbook of Psoriasis, 2nd Edition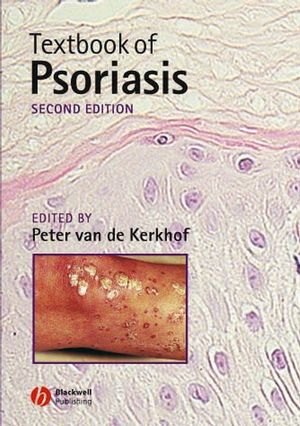 Textbook of Psoriasis, 2nd Edition
ISBN: 978-0-470-98729-2 April 2008 Wiley-Blackwell 360 Pages
Description
Your concise and manageable guide to psoriasis
During the last decade, research into molecular genetics, inflammatory mechanisms and immunology has dramatically enhanced our insight into the pathogenesis of psoriasis, paralleled by a proliferation in therapeutic treatments. For those unable to keep pace with the continual volume of research on psoriasis, Textbook of Psoriasis provides a concise and digestible account of the subject.
Aimed at both the trainee and practising dermatologist, Textbook of Psoriasis concentrates mainly on the clinical presentation of psoriasis and the management of the condition using the latest pharmacological agents. In addition, it also reviews the underlying science from the point of view of causation and pathology. Containing contributions from a distinguished team of experts, the book remains in three sections which discuss the clinical morphology of the skin, its etiology and pathogenesis, and finally the current available treatments for this distressing disease.
Contributors.
Preface.
Part 1: Clinical Presentations.
1 Clinical Features.
2 Psoriatic Arthropathy.
3 Psychosocial Aspects.
Part 2: Aetiology and Pathogenesis.
4 Epidemiology.
5 The Complex Genetics of Psoriasis Revisited.
6 Pathogenesis.
7 Immunopathogenesis.
Part 3: Therapy.
8 Vitamin D3 Analogues.
9 Corticosteroids.
10 Dithranol.
11 Photo(chemo)therapy.
12 Methotrexate.
13 Topical and Systemic Retinoids.
14 Cyclic Immunosuppressive Agents.
15 Novel Immunotherapies.
16 Clinical Use and Pharmacological Profile of Fumaric Acid Esters.
17 Comparisons and Combinations.
Index
1st Edition
"This textbook is a worthwhile addition to the published literature on psoriasis" Retinoids Journal, May 2000
* Psoriasis is a very common skin disorder
* Covers the numerous new drug therapies recently launched
* International in scope
* Illustrated in colour
* Last edition sold over 4,000 copies