Textbook of Uncommon Cancer, 3rd Edition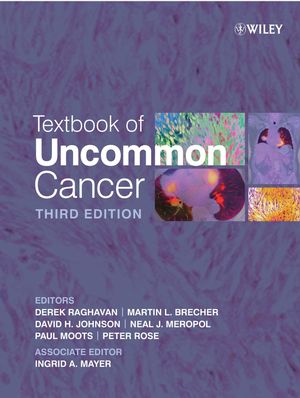 Textbook of Uncommon Cancer, 3rd Edition
ISBN: 978-0-470-03055-4
Jul 2006
878 pages
Description
Described as 'must-have for cancer research' by the Hospital Doctor this highly acclaimed textbook has been extensively revised and updated to reflect recent progress and understanding in the field. It is the only comprehensive source of information available on uncommon cancers; presenting diagnosis, detailed clinical management and prognosis. The Textbook of Uncommon Cancer, Third Edition incorporated 18 new chapters, including:
Tumors of the cervix
Esthesioneuroblastoma
Unusual malignancies of plasma cells
Dermatofibrosarcoma protuberans
Written by leading clinicians worldwide, this title is indispensable for all those involved in the diagnosis and treatment of hard-to-manage rare tumors.
List of Contributors.
Preface.
Section 1: Genitourinary Cancer.
1. Uncommon Tumors of the Kidney (Sujith R. Kalmadi, Ming Zhou, Andrew Novick and Ronald M. Bukowksi).
2. Uncommon Cancers of the Bladder (Arlene O. Siefker-Radtke, Bogdan A. Czerniak, Colin P. Dinney and Randall E, Millikan).
3. Urethral Cancer (Oscar E. Streeter Jr and David I Quinn).
4. Uncommon Cancers of the Prostate (Scott T. Tagawa, Omid Hamid, Eila Skinner and Parvesh Kumar).
5. Rare Tumors of the Testis and Paratesticular Tissues (Vedang Murthy, Cyril Fisher and Alan Horwich).
Section 2: Head and Neck Cancer.
6. Uncommon Tumors of then Oral Cavity and Adjacent Structures (A. Robert Kagan, Stephen I. Shibata, Michael P. McNicoll and Najeeb S. Alshak).
7. Rare Tumors of the Larynx (Samir S. Khariwala and Marshall Strome).
8. Nasopharyngeal Carcinoma in Non-endemic Populations (June Corry and Bonnie Glisson).
9. Esthesioneuroblastoma (Barbara A. Murphy, Jospeh M. Aulino, Christine H. Chung, Kim Ely, Robert Sinard and Anthony Cmelak).
Section 3: Endocrine Tumors.
10. Neoplastic Disorders of the Adrenal Glands (K. Oberg, A. Goldhirsch and A. Munro Neville).
11. Uncommon Cancers of the Thyroid (Mark Bloomston and Manisha H. Shah).
12. Parathyroid Carcinoma (Alliric I. Willis and John A. Ridge).
Section 4: Breast Cancer.
13. Metaplastic Breast Carcinoma (Helenice Gobbi, Ingrid A. Mayer and A. Bapsi Chakravarthy).
14. Adenoid Cystic Carcinoma of the Breast (Melinda E. Saunders, Masako Kasami, Julie Means-Powell and David L. Page).
15. Non-Hodgkin Lymphoma of the Breast ((David S. Morgan and Jean F. Simpson).
16. Male Breast Cancer (Ian K. Komenaka, Kathy D. Miller and George W. Sledge Jr).
17. Phyllodes Tumor of the Breast (Ian Ellis, Elinor J. Sawyer, Raj Rampaul and Carlos G. Pineda).
18. Carcinosarcoma of the Breast (B.T. Hennesey, M. Z. Gilcrease, G. Babiera, W. Yang, V. valero and G. N. Hortobagyi).
19.; Tubular Carcinoma (Melinda E. Sanders, Ingrid A. Mayer and David L. Page).
Section 5: Thoracic Tumors.
20.; Thymoma and Thymic Carcinoma (Annette M. Moore, Christopher J. Sweeney, Mark R. Wick and Patrick J. Loehrer).
21. Primary Lymphomas of the Lung (Francis C. Nichols and Stephen D. Cassivi).
22. Primary Sarcomas of the Lung (Rachel E. Sanborn, Adrian L. Gonzalez, Thomas M. Allbright, Guru Sonpavde and Alan B. Sandler).
23. Mesotheliomas (Giuseppe Giaccone and Paul Baas).
24. Primary Melanoma of the Lung (Richard A. Scolyer, James F. Bishop and John F. Thompson).
25. Large Cell Neuroendocrine Carcinoma (William D. Travis, Lee M. Krug and Valerie Rusch).
26. Carcinoid Tumors of the Lung (Simon Chowdhury, Paul Cane, James F. Spicer and Peter G. Harper).
27. Bronchiolalveolar Carcinoma of the Lung (Gregory J. Riely and Vincet A. Miller).
28. Primary Adenoid Cystic Carcinoma of the Lung (John G. Devlin and Corey J. Langer).
29. Mucoepidermoid Tumors of the Lung (Tracey L. Evans and Thomas J. Lynch).
Section 6: Gastrointestinal Tumors.
30. Uncommon Cancers of the Esophagus (John G. Devlin, Robert D. Odze and Jonathan D. Cheng).
31. Uncommon Cancers of the Stomach (Jordan D. Berlin and Mary K. Washington).
32. Unusual Pancreatic Tumors (Ann Wexler, Roger J. Waltzman and John S. Macdonald).
33. Uncommon Hepatobiliary Tumors (Steve J. Cohen and Natalie E. Joseph).
34. Cancer of the Small Bowel (Robert R. McWilliams, Thomas C. Smyrk and Axel Grothey).
35. Unusual Tumors of the Colon, Rectum and Anus (William P. Tew and Leonard B. Saltz).
36. Cancer of the Appendix ((Matthew H. Kulke and Leonard B. Saltz).
37. Gastrointestinal Stromal Tumors (Margaret von Mehren and Douglas Flieder).
38. Small Cell Carcinomas of the Gastrointestinal Tract (Alexandria T. Phan and Paulo M. Hoff).
Section 7: Gynecological Cancers.
39. Extra-ovarian Primary Peritoneal Carcinomas (Alberto E. Selman and Larry J. Copeland).
40. Borderline Tumors and Other Rare Epithelial Tumors of the Ovary (Teresa P. Diaz-Montes, Russell Vang, Deborah K. Armstrong and Robert E. Bristow).
41. Stromal Tumors of the Ovary (Jubilee Brown, Anuja Jhingran, Michael Deavers and maurice Markman).
42. Germ Cell Tumors of the Ovary (Daniela E. Matei, Jeanne M. Schilder and Helen Michael).
43. Fallopian Tube Cancer (Destin Black and Richard R. Barakat).
44. Uterine Sacromas and Unusual Endometrial Carcinomas (Peter G. Rose, Pedro F. Escobar, Peter Fleming and Charles Biscotti).
45. Tumors of the Cervix (Krishmansu S. Tewari and Bradley J. Monk).
46. Tumors of the Vulva and Vagina (Jonathan E. Tammela, Wainwright Jaggernauth, Paulette Mhawech-Fauceglia and Shashikant B. Lele).
47. Gestational Trophoblastic Diseases (Emily Berry and John R. Lurain).
Section 8: Hematological Malignancies.
48. Rare Leukemias (Attaphol Pawarode and Maria R. Baer).
49. Rare Lymphomas (Graham A. R. Young).
50. Uncommon Presentations of Plasma Cell Dyscrasias (Rachid Baz and Mohamad A. Hussein).
Section 9: Cutaneous Malignancies.
51. Unusual Cutaneous Malignancies (Toni K. Choueiri, Thomas Loencki, Wolfram Samlowski, Scott Florell, Sancy Leachmann, Martin Major and Allsion Vidimos).
52. Dermatofibrosarcoma Protuberans (Michael D. Alvarado, June L. Messian and Vernon K. Sondak).
53. Merkel Cell Carcinoma (Wolfram Goessling and Robert J. Mayer).
Section 10: Neurological Malignancies.
54. Melanotic Lesions of the Meninges (Paul L. Moots and Michael L. Edgeworth).
55. Langherhans' Cell Histiocytosis of the Central Nervous System (Rima F. Jubran and Jonathan Finlay).
56. Chordomas (Herbert B. Newton).
57. Meningeal Sarcomas (Nicholas G. Avgeropoulos).
58. Atypical and Malignant Meningiomas (Samer E. Kaba and Athanassios P. Kyritsis).
59. Primary Intracranial Germ Cell Tumors (Jan Drappatz and Jay S. Loeffler).
60. Primary Central Nervous System Lymphoma (Lisa M. DeAngelis).
61. Choroid Plexus Papilloma and Carcinoma (Michale L. Edgeworth and Julie E. Hammock).
62. Glioma and Other Neuroepithilial Neoplasms (Paul L. Moots, Mahlon D. Johnson, Mark T. Jennings and Anthony T. Cmelak).
63. Medulloblastoma and CNS Primitive Neuroectodermal Tumors (Paul L. Moots and Mark T. Jennings).
64. Craniophraryngiomas (Gene H. Barnett and John Park).
65. Opthalmic Cancers (Arun D. Singh, William J. Dupps Jr and Sophie Bakri).
Section 11: Pediatric Malignancies.
66. Rare Pediatric Malignancies of the Head and Neck (Ted A. James, Larry L. Myers, Nestor Rigual, Janet S. Winston, Thom R. Loree and Wesley L. Hicks).
67. Uncommon Pediatric Tumors of the Thorax (Joanne M, Hilden, Sharon O. Meerbaum and Louis P. Dehner).
68. Uncommon Tumors of the GastrointenstinalTract in Children (Christopher L Moertel, Jan Watterson and Louis P. Dehner).
69. Uncommon Pediatric Genitourinary Tumors (Barbara Bambach).
70. Uncommon Endocrine Tumours in Children and Adolescents (Raul C. Ribeiro, Carlos Rodriquez-Galindon, Gerlad P. Zambetti, Bonald C. Figueiredo, Karel Pacak, Andrew Bauer and Constantine A. Stratakis).
71. Uncommon Pediatric Brain Tumours (Sharon H. Smith).
72. Malignant Tumours of the Skin and Subcutaneous Tissue in Children (Ilene L. Rothman, Joyce B. Farah and Thomas N. Helm).
Acknowledgements.
Index.
"
Textbook of Uncommon Cancer
is by far the most comprehensive publication available on uncommon tumors and is worth the purchase price." (
The Journal of the American Medical Association
, March 21, 2007)
"…a comprehensive guide for practicing oncologists…for those of us who treat patients with uncommon cancers, an up-to-date resource such as this is of value." (Doody's Health Services)