The ""Front Porch"": Examining the Increasing Interconnection of University and Athletic Department Funding: AEHE Volume 41, Number 5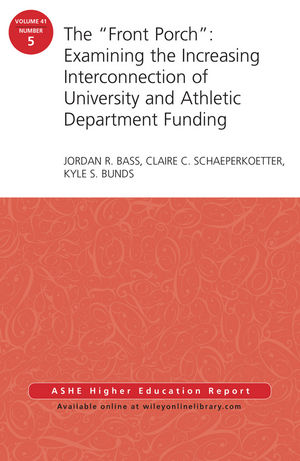 The ""Front Porch"": Examining the Increasing Interconnection of University and Athletic Department Funding: AEHE Volume 41, Number 5
ISBN: 978-1-119-17452-3
Aug 2015, Jossey-Bass
128 pages
Description
Higher education and intercollegiate athletics have long had a complicated relationship. Examining the interconnection between the two and from a variety of theoretical and practical angles, this volume highlights many of the debates surrounding higher education and intercollegiate athletics and the financial dependency between these two long-standing entities. Topics include:

a comprehensive history of the National Collegiate Athletic Association,
an examination of the funding mechanisms utilized by intercollegiate athletic departments,
an in-depth magnification of the increasing corporatization of higher education and athletics, and
a look into potential future debates and lines of inquiry surrounding this topic.
This is the 5th issue of the 41st volume of the Jossey-Bass series ASHE Higher Education Report. Each monograph is the definitive analysis of a tough higher education issue, based on thorough research of pertinent literature and institutional experiences. Topics are identified by a national survey. Noted practitioners and scholars are then commissioned to write the reports, with experts providing critical reviews of each manuscript before publication.
Executive Summary vi
Foreword ix
A History of Intercollegiate Athletics and the NCAA 1
History of the NCAA 2
Systemic Changes in College Athletics in the 1970s and 1980s 8
Formation of Three NCAA Divisions 9
Title IX 11
Television Broadcasting Contracts 21
Conclusion 23
The NCAA Division I Athletic Funding Crisis 25
"You've Got to Keep Up With the Joneses" 27
Student Fees, Tuition Reallocation, and Athletic Department Funding 31
Pushback Against University Support for Athletics 33
Positioning Big-Time Athletics 36
Conclusion 45
The Role of Athletics in the Corporatized University 48
Increased Corporatization in Higher Education 49
The Political Economy of "Keeping Up" 54
"Keeping Up" in College Athletics 59
Texas A&M: Mechanics of "Keeping Up" 61
College Athletics Labor Market 62
Who Owns "Johnny Football"? 67
Conclusion 69
Emerging Debates and the Future of Athletics in Higher Education 72
Funding the Arms Race 74
O'Bannon et al. v. the NCAA and Power Five Autonomy 78
The Unionization of College Athletes 80
The Elimination of UAB Football 82
Considering Results of New Structures 84
Conclusion 85
Conclusion and Challenges for Future Research 88
References 95
Name Index 104
Subject Index 107
About the Authors 109