The 10-minute Clinical Assessment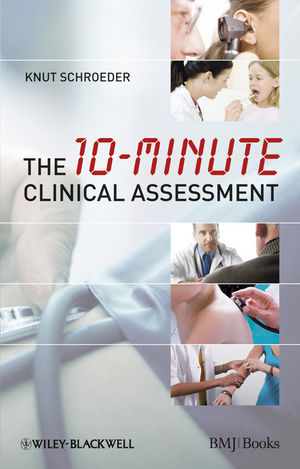 The 10-minute Clinical Assessment
ISBN: 978-1-444-35880-3 August 2011 BMJ Books 792 Pages
Description
In the space of 10 minutes, how do you confidently assess your patient's condition and make an accurate diagnosis?
This concise guide provides a systematic way of collecting the essential clinical information swiftly and effectively.
The individual disease sections are uniformly structured to provide:
Key features of the history, including questions relevant to patients and important for making a diagnosis
The 'value' of present or absent symptoms for diagnosis and prognosis
What should be examined and why
A summary of 'red flags' – issues that must be assessed
Important differential diagnoses and their clinical features
Useful tips, tricks and hints for effective patient assessment
Every health professional, who has to assess patients under time constraints, as well as advanced medical students preparing for final exams, will find this new, easily accessible and comprehensive guide invaluable
"Being responsible for dealing with most of the health problems of most of the population most of the time is quite a challenge.... Both students and doctors, and not just those at the start of their careers, will benefit from reading this beautifully structured book which will help them get the very best out of clearly focused consultations. Combined with the vital attributes of listening and caring, using the knowledge and support this book provides will help us all become more effective doctors."
—Professor David Haslam, CBE, FRCP, FFPH, FRCGP, Past President of the Royal College of General Practitioners, London, UK
Foreword.
Preface.
About the author.
Acknowledgements.
Selected useful resources.
Undifferentiated and miscellaneous presentations.
Suspected cancer.
Weight loss.
Tiredness.
Dizziness.
Chronic pain.
Sudden collapse.
Frequent attenders.
Medication review and polypharmacy.
Medically unexplained symptoms.
Insomnia.
Irritability and 'stress'.
Domestic violence.
Homelessness.
Paediatrics and adolescent health.
The sick and/or feverish child.
Suspected meningococcal meningitis and septicaemia.
Neonatal jaundice.
Faltering growth.
Headache and migraine in children.
Head injury in children.
Suspected cancer in children and adolescents.
Abdominal pain in children.
Hearing loss in children.
Childhood cough.
Childhood wheeze.
Constipation in children.
Childhood obesity.
Suspected child abuse and neglect.
Nocturnal enuresis.
Knee problems in children.
Hip problems in children.
Adolescent health problems.
Self-harm in teenagers.
Eating disorders.
Autism spectrum disorder.
Cardiovascular.
Chest pain.
Palpitations.
Cardiovascular risk assessment.
Hypertension.
Atrial fibrillation.
Heart failure.
Peripheral vascular disease.
Respiratory.
Shortness of breath.
Haemoptysis.
Suspected lung cancer.
Asthma.
Chronic obstructive pulmonary disease.
Suspected pneumonia.
Pleural effusion.
Pulmonary embolism.
Endocrine and metabolic.
Diabetes review.
Obesity.
Hirsutism.
Hypothyroidism.
Hyperthyroidism.
Hyponatraemia.
Hypernatraemia.
Hypokalaemia.
Hyperkalaemia.
Hypocalcaemia.
Hypercalcaemia.
Abdominal problems.
Nausea and vomiting.
Dysphagia.
Dyspepsia and reflux.
Upper gastrointestinal bleeding and melaena.
Abdominal pain.
Constipation.
Diarrhoea.
Rectal bleeding and suspected bowel cancer.
Abnormal liver function tests.
Irritable bowel syndrome.
Inflammatory bowel disease.
Coeliac disease.
Infectious diseases.
Fever of unknown origin.
Fever and illness in the returning traveller.
HIV infection and AIDS.
Tuberculosis.
Rheumatic fever.
Haematology.
Iron deficiency anaemia.
Pernicious anaemia and B12 deficiency.
Bleeding disorders.
Myeloma.
Musculoskeletal.
Soft tissue injury.
Acute hot and swollen joint.
Chronic musculoskeletal pain.
Polyarthralgia.
Neck pain.
Back pain.
Shoulder and arm problems.
Elbow problems.
Hand problems.
Hip pain.
Groin problems.
Leg pain and/or swelling.
Knee pain.
Foot and ankle problems.
Gout.
Osteoporosis.
Neurology.
Headache.
Transient ischaemic attack and stroke.
Head injury in adults.
Suspected or confirmed brain tumour.
Tremor.
Motor neurone disease.
Peripheral neuropathy.
Multiple sclerosis.
Gynaecology.
Combined oral contraception.
Menorrhagia.
Amenorrhoea.
Breast lumps.
Loss of libido.
Polycystic ovary syndrome.
Suspected ovarian cancer.
Obstetrics.
Routine antenatal care.
Bleeding in early pregnancy.
Abdominal pain in pregnancy.
Pre-eclampsia.
Urology and renal medicine.
Suspected urinary tract infection in women.
Lower urinary tract symptoms in men.
Urinary incontinence.
Urethral discharge in men.
Scrotal and testicular problems.
Erectile dysfunction.
Kidney stones.
Haematuria.
Chronic kidney disease.
Mental health.
Depression.
Self-harm and harm to others.
Anxiety, phobias and panic disorder.
Alcohol screening.
Alcohol dependence.
Illicit drug misuse.
Obsessive compulsive disorder.
Mania.
Schizophrenia.
Skin.
Moles and malignant melanoma.
Pressure ulcers.
Ophthalmology.
Eye injuries.
The acute red eye.
Gradual painless visual disturbance.
Sudden painless visual disturbance.
Eye problems in older people.
Ear, nose and throat.
Neck swelling.
Sore throat.
Ear pain.
Hearing loss in adults.
Tinnitus.
Rhinosinusitis and facial pain.
Problems in older people.
General health assessment in older people.
Cognitive problems and dementia.
Falls in older people.
Delirium and acute confusional state.
Depression in older people.
Palliative and end of life care.
Parkinson's disease.
Index.
"I suspect it has less value as an immediate reference in the blood and thunder of a tricky consultation, but medical students and GP trainees will appreciate its cut-down simplicity." (Casebook, 1 May 2011)
"This excellent book will appeal not only to its intended target audience but also to experienced health professionals who have to assess patients swiftly." (Journal of Tropical Pediatrics, 2010)