The 12 Amazing Secrets of Millionaire Inventors: Smart, Simple Steps for Turning Your Brilliant Product Idea into a Money-Making Machine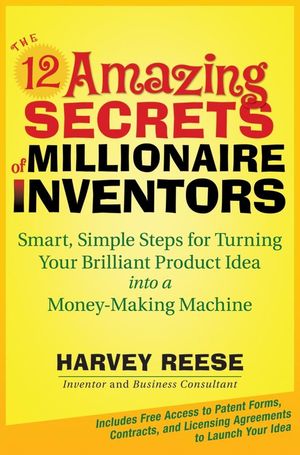 The 12 Amazing Secrets of Millionaire Inventors: Smart, Simple Steps for Turning Your Brilliant Product Idea into a Money-Making Machine
ISBN: 978-0-470-13549-5
Aug 2007
272 pages
Product not available for purchase
Description
Be the world's next millionaire inventor!

Watch out-avoid all the mistakes, bloopers, errors, andmess-ups that might prevent you from achieving all the rewards that you're entitled to
*

Cash in-use the C.R.A.S.H. Course in successful product licensing to license your idea for the most money possible
*

Be the boss-explore the ins and outs of marketing your idea yourself; whether you're ready, how to do it, what you need, and where to start
*

Be safe-foolproof steps for protecting your inventions and innovations through patents, trademarks, and copyrights
*

Start your own company-explore your options with proprietorships, partnerships, and other corporate structures
*

Raise money for your business-find financing from angel investors, bankers, lenders, and friends and family
*

Introduce your product-create a powerful presentation that will knock the socks off investors, manufacturers, and other interested parties
*

Get your foot in the door-what to do and say to convince manufacturers, licensees, investors, salespeople, and anyone else that you have what they've been waiting for
*

Follow the leaders-meet successful inventors, hear their stories, and absorb the twelve vital tips they learned along the way
Preface.
1. The 12 amazing mistakes, bloopers, errors, wretched miscalculations, boners, goof-ups and simply stupid moves made by many new inventors (not meaning you, of course).
2. Product licensing is a favorite path to riches for   many inventors; is it the right one for you? Here's all you need to know to make your choice, and here are the critical licensing steps taken by other successful inventors.
3. Marketing your idea yourself might be the perfect decision - or maybe not. Here's everything you need to know about your idea, your goals and yourself to make the right choice.
4. Think someone might steal your idea? Here's everything you need to know about patents, trademarks and copyrights (when you need them and when you don't).
5. Getting and keeping everything that's coming to you. All about proprietorships, general partnerships, limited partnerships and all the corporation structure options.
6. Need money? How much? Here's how to figure what you need, where to find it and how to get it. All about working with angels, bankers, lenders, investors and your rich Uncle Louie.
7. How to create the kind of powerful presentation material for your new product idea or invention that'll knock the socks off of whomever you present it to.
8. It's show time! Lights! Action! How to get you and your great product idea in front of the right person at the right company who can make your dreams come true.
9. Meeting with the manufacturer, licensee, or investor. What to do and what to say to make your talents and hard work pay off (It's easier than you think!).
10. Reaping the harvest. Use my own battle-tested licensing agreement to bring you all the rewards that your talents and hard work deserve.
11. Meet our panel of successful Inventors.
Appendix A. Contracts and Licensing Agreements for Inventors.
Appendix B. U.S. Patent and Trademark Office Application Forms.
Appendix C. Resources for Inventors.
Index.