The 12 Lead ECG in ST Elevation Myocardial Infarction: A Practical Approach for Clinicians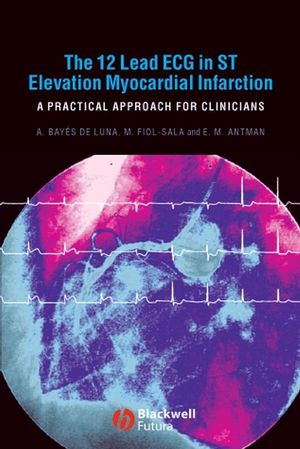 The 12 Lead ECG in ST Elevation Myocardial Infarction: A Practical Approach for Clinicians
ISBN: 978-1-405-15786-5
Oct 2006, Wiley-Blackwell
112 pages
Description
This guide to the proper use of the ECG in diagnosing acute myocardial infarction puts the combined experience of international authorities at your fingertips for immediate use. In The 12 Lead ECG in ST Elevation MI: A Practical Approach for Clinicians, Drs. Bayés de Luna, Fiol-Sala and Antman supply the practical, specific information you need to determine which patients with ACS are showing ST elevation.


To facilitate correct diagnosis and guide management, the authors use a consistent sequence to explain the ECG abnormalities for each site of coronary occlusion. A schematic of the coronary tree illustrates the point of occlusion.

The second part of the book contains a self-assessment section with a series of 15 cases, each of which includes one or more 12-lead ECGs for analysis. These valuable examples help you prepare for on-the-spot interpretation in the emergency department or intensive care unit.
Foreword.
Introduction.
1 The heart walls and coronary circulation.
The heart walls and their segmentation: The importance of uniform nomenclature.
Coronary circulation: The perfusion of the heart walls.
2 The ECG changes in ST elevation myocardial infarction.
3 The concept of injury vector: direct and reciprocal patterns.
4 Clinical interpretation and significance of ST changes.
Location of the occlusion and risk stratification: the role of deviations of the ST-segment.
1. From the occluded artery to the area at risk and thecorresponding electrocardiographic abnormality.
2. From the electrocardiographic pattern to the occluded artery and the area at risk.
Other characteristics of ST elevation regarding prognosis.
ST changes in patients with ischemia due to multivessel occlusion.
5 Conclusions.
6 Self-assessment.
References.
Index.
The essential tool for interpreting ECGs in ST Elevation Myocardial Infarction (STEMI)


Clear and concise guide to diagnosing STEMI and determining treatment and management

Practical tool essential for all heath care professionals

Self-assessment section aids learning, helping the reader to apply the principles of analysis over a series of 15 cases