The 1970s is Here and Now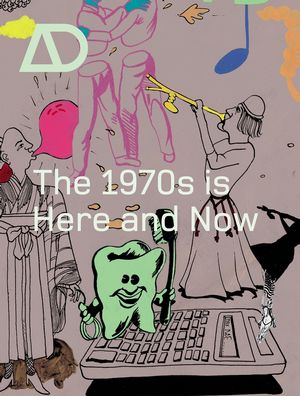 The 1970s is Here and Now
ISBN: 978-0-470-01136-2 April 2005 128 Pages
Description
The 1970's was marked by a seismic change that occurred in the representation of ideas in architecture as they appeared monthly on the pages of AD. The magazine bears out the energetic, experimental, environmentally-conscious and ultimately pluralist culture that prevailed throughout the 1960's, carrying it through to the emergence of Post-Modernism in the late 1970's. This issue of AD presents a 'Cosmorama for Now', looking at such subjects as housing, schools, health, urban design and planning.

Contributors will include amongst others: Jon Goodbun, FAT,  Kester Ratternbury, David West of Will Aslop Architects, Liza Fior of Muf, Jeremy Till, Nic Clear, Robert Webb, John-Paul Frazer, Pauline van Mourik Brekman and Simon Worthington of Mute Magazine, Sand Helsel, Will McLean & Pete Silver, Adam Kalkin, Chris Muller, Samantha Hardingham.
Editorial (H. Castle).
Introduction (S. Hardingham).
A Cosmorama of Now (W. McLean).
A Memory of Possibilities (S. Hardingham).
Out-in-the-Open University (N. Lister).
The Agora at Dronten (J. Madge).
Computing Without Computers (J. Frazer).
Planning Tools (C. Moller).
The Info-Urbanisation of China (T. Jachna).
It's All About Getting What You Want (L. Fior, et al.).
I Love Cad (N. Clear).
On Surrealism and Architecture (J. Goodbun & D. Cunningham).
Sustaining Technology (R. Webb).
Hmmmm Gardening: Some Comments on Garden Style and False Economy (J. Vincent).
Active Narratives (M. Brayer).
Thinkorama.
Interior Eye: Theatre Underground (C. Kellogg).
Practice Profile: Bevk Perovic arhitekti (V. Croci).
Building Profile: Opera House, Copenhagen (J. Melvin).
Home Run: Soho Court, London (B. Stewart).
Engineering Exegesis: Case Study: Bix (A. Chaszar).
Site Lines: Bubble Bar (H. Watson).
Philip Webb: Pioneer of Arts & Crafts and Architecture (S. Kirk).