The 2010 Pfeiffer Annual: Consulting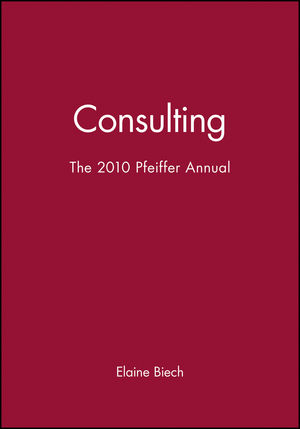 The 2010 Pfeiffer Annual: Consulting
ISBN: 978-0-470-61541-6
Dec 2009, Pfeiffer
336 pages
Description
This handy resource is a ready-made toolkit of ideas, methods, techniques, and models that assist and support your work as an internal or external organizational consultant. The Annual addresses the broad range of topics that are of most interest to professionals in the field. The materials provide highly accessible means of interacting with a diverse variety of systems and processes?The Annual focuses on communication and includes information on coaching, teams, strategic learning, corporate responsibility, and technology initiatives. This important resource includes an international group of expert contributors.

Purchase of an Annual includes access to an associated website which features customizable versions of the reproducible items associated with each activity included in the volume.
Website Contents.
Preface.
The Difference Between Training and Consulting: Which Annual to Use?
Introduction to The 2010 Pfeiffer Annual: Consulting.
Experiential Learning Activities.
Introduction to the Experiential Learning Activities Section.
Experiential Learning Activities Categories.
Mirror Image: Reflecting on How Our Personal Pursuits Show in Our Professional Practice (Gary Wagenheim, Robert Clark, and Alexander Crispo).
**Words of Trust: Building Trust in the Workplace (David Piltz).
**Difficult Conversations: Making Them Easier (Beverly J. Bitterman).
**Unstructured Coaching Conversations: Coaching the Coach (Travis L. Russ).
**I'd Like You to Meet . . .: Introducing a New Hire (Lucille Maddalena).
**Redirect: Achieving Positive Outcomes (Devora Zack).
**Team Extreme Challenge: Solving Difficult Tasks (Amy Henderson).
**Puzzling Behavior: Discovering How Teams Work (Jo-Ann C. Byrne).
Beyond the Olympics: Discussing Autocratic vs. Democratic Leadership (Barbara Pate Glacel).
Signatures and Shoes: Breaking the Ice (Mahaveer Jain).
Facilitation Tools: Using Spectrogram Analysis (Elisabeth C. Ayres, Catherine Cable, and Sophia Zia).
Follow the Leader: Exploring Trust As a Leadership Requirement (Harriet Rifkin).
A Bull's-Eye Every Time: Setting Short-Term Goals (Linda S. Eck Mills).
Editor's Choice.
Introduction to the Editor's Choice Section.
Credit Bureau Reporting: Solving the Mystery (Dawn J. Mahoney).
The Importance of Consulting Diagnosis (Karl E. Sharicz and Carol Ann Zulauf Sharicz).
Inventories, Questionnaires, and Surveys.
Introduction to the Inventories, Questionnaires, and Surveys Section.
Team Effectiveness Assessment Measure (TEAM) (Udai Pareek).
Corporate Social Responsibility: Determining Your Position (Homer H. Johnson).
Scale of Intellectual Capital for Organizations (SICO) (Sacip Toker, James L. Moseley, and Ann T. Chow).
Articles and Discussion Resources.
Introduction to the Articles and Discussion Resources Section.
**Don't Let Your Clients Be Defined by Instrument Results (Mona Lee Pearl, with Phil Van Horn and Jody L. Shields).
**Evaluating the Manager-Subordinate Dyad (Mohandas Nair).
**360-Degree Tool Kit: Everything You Ever Wanted to Know About 360-Degree Feedback, But Were Afraid to Ask (Jan M. Schmuckler, Ann M. Gormley, and Bruce Alan Kimbrew).
**Building Support and Engagement for Technology Initiatives (Kris Taylor).
Consulting Opportunities in the Nonprofit Sector (Phil Van Horn).
**Forming TIGERS-Hearted Teams (Dianne Crampton).
Effective Executive Coaching: An Illustrative Case Study (Leonard D. Goodstein).
Assessments and Coaching: An Incongruent Pair (Teri-E Belf and Rafael Rivera).
Communicating with Professional Savvy (Karen A. Travis).
Successful Organization Development and Growing Pains (Eric G. Flamholtz and Yvonne Randle).
Team Building Without Time Wasting (Marshall Goldsmith and Howard Morgan).
Effective Leader-Employee Relationships in the 21st Century (Edwin L. Mouriño-Ruiz).
How Can You Develop Leaders? Let Me Count the Ways! (Lois B. Hart).
Leveraging Business Data to Develop Strategic Learning Solutions (Ajay M. Pangarkar and Teresa Kirkwood).
Contributors.
Contents of the Companion Volume, The 2010 Pfeiffer Annual: Training.