The 2010 Pfeiffer Annual: Training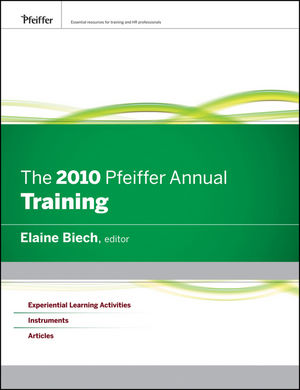 The 2010 Pfeiffer Annual: Training
ISBN: 978-0-470-61544-7
Nov 2009, Pfeiffer
320 pages
Description
This volume of the popular Pfeiffer Annuals series offers unique activities, articles, and an instrument from experts and practitioners in the field of managerial training. It addresses the design, delivery, and evaluation of interventions that can be used to improve the performance of managers across all sorts of disciplines. This year's Annual puts the spotlight on communications and offers value information on such topics as negotiation, leadership, situational training, informal learning, trust, and distance learning. The Annual features an international list of expert contributors.

Purchase of an Annual includes access to an associated website which features customizable versions of the reproducible items associated with each activity included in the volume.
Website Contents.
Preface.
The Difference Between Training and Consulting: Which Annual to Use?
Introduction to The 2010 Pfeiffer Annual: Training.
Experiential Learning Activities.
Introduction to the Experiential Learning Activities Section.
Experiential Learning Activities Categories.
**One Life, Many Roles: Enhancing Effectiveness (Amitabh Jha).
**Our Unique Qualities: Strengthening Self-Concept (Rekha Bharadwaj).
**Imaginary Objects: Creating Awareness of Nonverbal Communication (Robert Alan Black).
**Speak Up: Building Confidence (TeAundra R. McCullough).
**Respect Is a Bridge: Using Effective Communication (Deborah Spring Laurel).
The Caterer: Understanding the Negotiation Process (Parth Sarathi).
**Ore Wars: Deciding on Tactics (Noam Ebner).

**Meeting of the Minds: Creating Interaction and Appreciating Diversity (Cher Holton).
Brown Paper Bag: Shaking It Up (Gerald A. Goik).
I Wanna Be. . .: Getting Past Awkward Introductions (Karen M. Reed).
Leadership: Discovering the Dangers of False Perceptions and Self-Deception (Dennis E. Gilbert).
Leader Style Effects: Communicating Chaos in a Box (Leah Omilion).
Managing Talent: Using EI to Retain Talent (Charlotte S. Waisman and Linda M. Bedinger).
Pitching Change: Learning How to Manage It (Carol E. Willett).
Editor's Choice.
Introduction to the Editor's Choice Section.
Case Studies Activity Frame (Halelly Azulay).
Burrs in the Saddle: A Way to Create Workshop Dialogue (M.K. Key).
Five (Minus Four) Easy Pieces (Richard T. Whelan).
Inventories, Questionnaires, and Surveys.
Introduction to the Inventories, Questionnaires, and Surveys Section.
Behavioral Styles Inventory (BSI) (Sushama Khanna).
Building Community in the Corporate Arena (Lindsey M. Hill).
Daily Leadership "Best Practices" Assessment (Stephen G. Haines).
Leadership Style Appropriateness Instrument (LSAI) (Surabhi Purohit).
Articles and Discussion Resources.
Introduction to the Articles and Discussion Resources Section.
**Body Language: Creating Congruence When Presenting (Linda Talley).
**Ensuring Training Effectiveness: Priming the Participants (Mohandas Nair).
**Using Trust to Achieve Workplace Success (Robert W. Lucas).
**Analysis in the Age of Distance Learning (Nancy B. Hastings).
Systems Thinking: "Best Practices" Research on the DNA of Successful Organizations (Stephen G. Haines).
Just-Right Challenges: The Secret to Effective Training (Michael Doctoroff).
Informal Learning and the Case to Formally Design It (Allison A.S. Wimms and Zane L. Berge).
The Situational Training Methods Model: Selecting Appropriate Training Styles (Jean Barbazette).
Evaluating the Effectiveness of Sexual-Harassment-Prevention Training: A Case Study 2(Michael Moskowitz).
Beyond ROI: To Boldly Go Where No Training Evaluation Has Gone Before (Ajay Pangarkar and Teresa Kirkwood).
Contributors.
Contents of the Companion Volume, The 2010 Pfeiffer Annual: Consulting.
Pfeiffer Publications Guide.