The 2R Manager: When to Relate, When to Require, and How to Do Both Effectively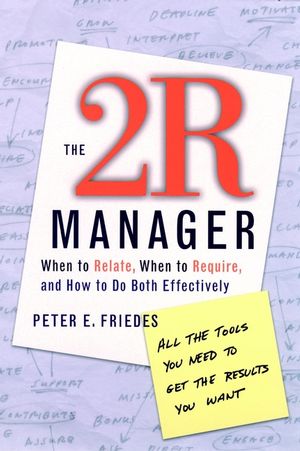 The 2R Manager: When to Relate, When to Require, and How to Do Both Effectively
ISBN: 978-0-787-96902-8
Feb 2003, Jossey-Bass
240 pages
Description
The 2R Manager will make you a better manager---immediately.It offers specific advice tailored to each individual's current management style. You will take some self-surveys, see the results, and learn the impact you now have on those you manage. You ll learn what changes you must make and how to make them.

Managers have naturally either a Relating or a Requiring style. Those who naturally require are weaker at relating---sometimes much weaker---and vice versa. The best managers possess the ability to do both well and know when to choose one over the other. Most managers miss opportunities. Some try to be their employee's friend when they need to be setting priorities and deadlines. Others, thinking they have the answers, miss getting new ideas and destroy their employees motivation. Having the ability to relate and require is fundamental for effective managing.

Whether you want to improve how you now manage people or create a management-training alternative that can help reduce time and costs, you will find what you're looking for in The 2R Manager.
Foreword (David H.Maister).

Preface.

1. 2Rs Are Better Than 1.

Part One: Self-Assessment.

2. Identifying Your Natural Style.

3. About-Right Requiring for Requirers.

4. About-Right Relating for Relaters.

Part Two: Style Familiarity.

5. Identifying Your Specific Type.

6. Getting Unstuck.

Part Three: Increasing Versatility.

7. Versatility-Fostering Beliefs.

8. Requiring for Relaters.

9. Relating for Requirers.

10. When to Relate,When to Require.

Part Four: Situational Implementation.

11. Maintaining a 2R Perspective.

12. Getting Started.

13. The Benefits: For You, Your People, and Your Organization.

More Resources for the 2R Manager.

References.

Recommended Reading.

Acknowledgments.

About the Author.

Contacting the Author.

Index.