The 60-Minute Active Training Series: How to Encourage Constructive Feedback from Others, Leader's Guide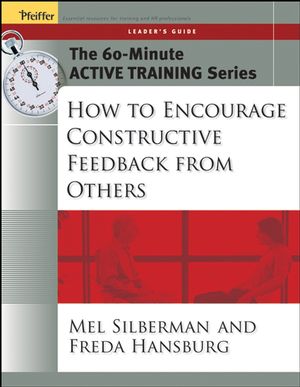 The 60-Minute Active Training Series: How to Encourage Constructive Feedback from Others, Leader's Guide
ISBN: 978-0-787-97350-6
Dec 2004, Pfeiffer
32 pages
Description
Constructive feedback is an essential part of learning, growth, and performance. Too often, though, feedback is withheld. How to Encourage Constructive Feedback from Others, Leader's Guide from the popular 60- Minute Active Training Series offers facilitators a ready-made, effective one-hour program that teaches participants how to useful feedback from others.Specifically, participants will be introduced to and learn how to apply, the four fundamental strategies that open up people at work to exchange honest and constructive feedback:
Invite others to give feedback that's really wanted
Develop an on-going commitment to feedback
Take into account the needs of the person on the giving end
Keep the focus on the future, not the past
Introduction.
Program Overview.
Program Outline.
Program Directions.
Facilitation Tips.
References.
About the Authors.
Pfeiffer Publications Guide.