The 7 Irrefutable Rules of Small Business Growth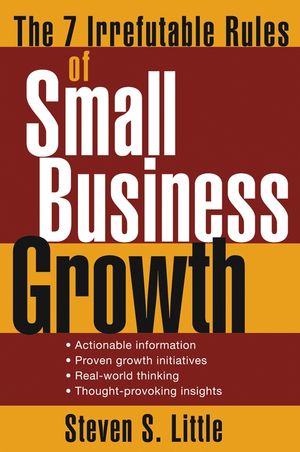 The 7 Irrefutable Rules of Small Business Growth
ISBN: 978-0-471-70760-8 February 2005 256 Pages
Description
Starting a small business and making it a success isn't easy. In fact, most small business owners don't get rich and many fail. This book presents the straight truth on small business success. It doesn't offer cure-alls for every small business. Instead, it outlines real, effective principles for continued small business growth and success. Written by business growth expert Steven Little, The 7 Irrefutable Rules of Small Business Growth skips empty small business positivism in exchange for real-world, practical solutions. If you're a small business owner or an entrepreneur just starting out, you'll find answers to all your most important questions on topics such as technology, business plans, hiring, and much more.
Table of contents
Preface: Did I Really Say "Irrefutable"?
Acknowledgments.
About the Author.
Chapter 1: A Realist's View of the Small Business Landscape.
Chapter 2: Are You Really the Entrepreneurial Type?
Chapter 3: RULE 1: Establish and Maintain a Strong Sense of Purpose.
Chapter 4: RULE 2: Thoroughly Understand the Marketplace.
Chapter 5: RULE 3: Build an Effective Growth Planning System.
Chapter 6: RULE 4: Develop Customer-Driven Processes.
Chapter 7: RULE 5: Put the Power of Technology to Work.
Chapter 8: RULE 6: Attract and Keep the Best and the Brightest.
Chapter 9: RULE 7: See the Future More Clearly.
Appendix: Personality Tests That Measure Entrepreneurial Types.
Index.