The 7-Step System to Building a $1,000,000 Network Marketing Dynasty: How to Achieve Financial Independence through Network Marketing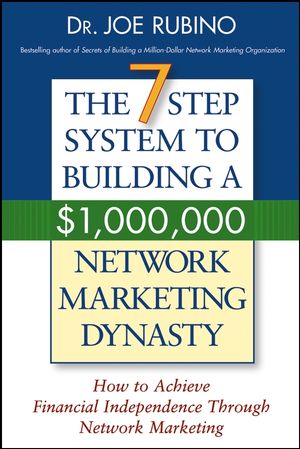 The 7-Step System to Building a $1,000,000 Network Marketing Dynasty: How to Achieve Financial Independence through Network Marketing
ISBN: 978-1-118-04035-5
Dec 2010
256 pages
Description
Millions of people around the world participate daily in network marketing sales. This book offers, for the first time, a step-by-step plan for building a profitable, long-lasting network marketing business. This simple, proven system—from an author who built his own million-dollar network marketing business—gives everyone in the network marketing industry the tools and tactics they need to succeed spectacularly. Rubino's seven-step system covers every aspect of the network marketing business, from planning to prospecting to training, and gives you the confidence and attitude you need to make your business work and keep it profitable.
Foreword by Tom "Big Al" Schreiter.
Preface.
Acknowledgments.
About the Author.
Introduction: The Promise of Network Marketing.
Step 1: VISIONING—Establish Your Reasons for Joining; Create a Compelling Vision.
Step 2: PLANNING—Create a Master Plan That Will Support You to Realize Your Vision.
Step 3: PROSPECTING—Effective Prospecting: Who, Where, How, and How Many?
Step 4: ENROLLING—The Power to Enroll: How to Become an Enrollment Machine.
Step 5: TRAINING—Train Like a Master Instructor: Structures for Successful Partnerships.
Step 6: PERSONAL DEVELOPMENT—Grow as Fast as Your Organization Does: Create Structures for Personal Excellence.
Step 7: STEPPING INTO LEADERSHIP—The Keys to Developing Other Self-Motivated Leaders.
Epilogue: Tying the 7-Steps Together to Build Your Network Marketing Dynasty.
Recommended Readings: Other Books by Dr. Joe Rubino.
Index.