The AHA Guidelines and Scientific Statements Handbook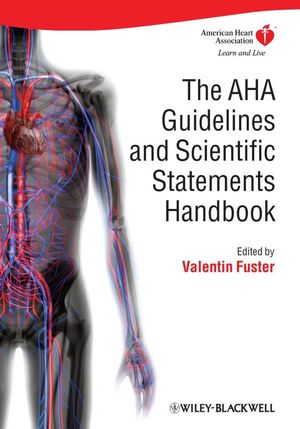 The AHA Guidelines and Scientific Statements Handbook
ISBN: 978-1-405-18463-2 December 2008 Wiley-Blackwell 408 Pages
Description
Society-sanctioned guidelines on care are valuable tools, but accessing key information from the often complicated statements has been a daunting task. Now, practitioners and their institutions have a clear path to successful application of guidelines from the American Heart Association. This book outlines the key AHA guidelines, Statements, and Performance Measures and includes comparisons with the associated European guidelines. This book also has a strong online component, which will alert users who sign up to new updates to the guidelines and other relevant information. It will also have links through to the full guidelines and statements.
Cannot be combined with any other offers.
Original Price:$281.90
Purchased together:$211.42
save $70.48
Table of contents
Contributors vii
Preface x
1 Chronic Stable Angina 1
Theodore D. Fraker, Stephan D. Fihn, and Raymond J. Gibbons
2 Unstable Angina/Non-ST-Elevation Myocardial Infarction 25
Jeffrey L. Anderson and Nanette Kass Wenger
3 ST-Elevation Myocardial Infarction 46
Elliott M. Antman
4 Cardiac Rehabilitation and Secondary Prevention Programs 91
Mark A. Williams and Gary J. Balady
5 Secondary Prevention for Patients With Coronary and Other Atherosclerotic Vascular Disease 108
Sidney C. Smith, Jr.
6 Percutaneous Coronary Intervention 117
Sidney C. Smith, Jr.
7 Coronary Artery Bypass Graft Surgery 134
Cullen D. Morris, Kim Eagle, Robert A. O'Rourke, and Robert A. Guyton
8 Perioperative Cardiovascular Evaluation and Care for Noncardiac Surgery 152
Lee A. Fleisher
9 Lower Extremity Peripheral Artery Disease 165
Alan T. Hirsch and Ziv J. Haskal
10 Cholesterol Management in the Context of Risk Factor Profile 187
Scott M. Grundy
11 Hypertension 196
Clive Rosendorff
12 Cardiovascular Disease Prevention in Women 214
Kathy Berra and Nanette Kass Wenger
13 Heart Failure 223
Sharon A. Hunt and Mariell Jessup
14 Cardiomyopathies 236
Barry J. Maron
15 Atrial Fibrillation 244
Valentin Fuster and Lars Rydén
16 Supraventricular Arrhythmias 255
Carina Blomström-Lundqvist and Melvin Scheinman
17 Ventricular Arrhythmias and Sudden Cardiac Death 270
A. John Camm and Douglas P. Zipes
18 Valvular Heart Disease 293
Robert O. Bonow
19 Infective Endocarditis 312
Larry M. Baddour, Kathryn A. Taubert, Michael H. Gewitz, and Walter R. Wilson
20 Cardiac CT Imaging 336
Matthew J. Budoff and Allen J. Taylor
Appendix Update on Coronary Artery Bypass Surgery: Current and Future Trends 347
Robert A. O'Rourke
Other Statements Published in 2008 353
Index 355
COI Table 373
Reviews
"This is an excellent summary of the current AHA guidelines." (Doody's Reviews, May 2009)