The ART of Trading: Combining the Science of Technical Analysis with the Art of Reality-Based Trading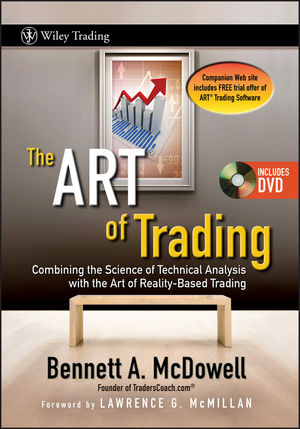 The ART of Trading: Combining the Science of Technical Analysis with the Art of Reality-Based Trading
ISBN: 978-1-119-19731-7
Aug 2015
320 pages
Description
An expert in the field of finance reveals his proven trading system

As a trading coach and financial advisor, Bennett McDowell has used his own proprietary trading system--Applied Reality Trading or ART to enhance the performance of his clients' portfolios. Now McDowell outlines the unique benefits of his system and makes the case for trading the reality--not the fantasy--of financial markets. Readers will discover the importance of simplicity in a trading approach; how to develop "The Trader's Mindset;" how to use ART(r) technical analysis software; and much more. The ART of Trading will enlighten readers in how to use reality to enrich both their financial portfolio and their own financial psychology.
Contents.
Foreword.
Preface.
Acknowledgments.
Introduction.
Part One. Reality.
Chapter 1. It's All About Reality.
Chapter 2. The Reality of Price & Volume.
Chapter 3. Managing Risk: Always Set a Stop Loss Exit.
Chapter 4. If It Sounds Too Good to be True…
Chapter 5. Personal Methods to Increase Trading Success.
Chapter 6. Identify Your Personal ART® Profile.
Part Two. Art.
Chapter 7. Design Your "Business Plan".
Chapter 8. Selecting A Financial Market .
Chapter 9. Selecting A Time Frame.
Chapter 10. Selecting Your Broker & Data Source.
Chapter 11. Psychology & "The Trader's Mindset".
Chapter 12. Artistic Simplicity.
Chapter 13. The Art Of Paper Trading.
Part Three. Science & Math.
Chapter 14. Calculating Proper Trade Size.
Chapter 15. Other Formulas & Recipes.
Chapter 16. The Human Brain.
Part Four. ART System Basics.
Chapter 17. ART Is The Total Solution.
Chapter 18. Pyramid Trading Points.
Chapter 19. Market Truths: Price Bars & Volume.
Chapter 20. ART Reversal Bar Signals.
Chapter 21. Trend Trading Rules.
Chapter 22. Counter Trend Trading Rules.
Chapter 23. Scalping Rules.
Part Five. Advanced Techniques.
Chapter 24. When To Use Advanced Techniques.
Chapter 25. Scaling-OUT and Scaling-IN.
Chapter 26. How To Trade Channeling Markets.
Chapter 27. Software Optimization & ATR.
Chapter 28. Stop & Reverse (SAR).
Chapter 29. Higher Time Frame – Filter.
Chapter 30. Other Filter Techniques.
Chapter 31. Elliott Wave – Ungrounded Assessment.
Chapter 32. Other Un-Grounded Assessments.
Epilogue.
Appendices.
Appendix A. Art Software Quick-Start.
Appendix B. Art Tips.
Appendix C. Art Software Technical Support.
Appendix D. The Art Of Trading Companion Dvd.
Appendix E. Resources.
Glossary.
Index.
About the Author.