The Abandoned Property Investor's Kit: Find the Owner, Buy Low (with No Competition), Sell for Big Profits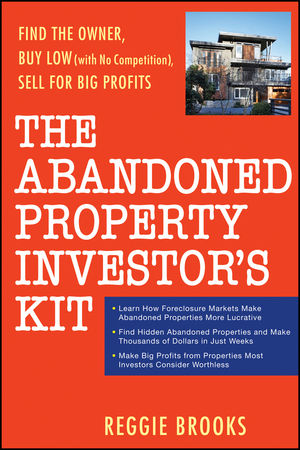 The Abandoned Property Investor's Kit: Find the Owner, Buy Low (with No Competition), Sell for Big Profits
ISBN: 978-0-470-43257-0 October 2008 240 Pages
Description
"A declining market is the best market in which to make money."
—
Donald J. Trump
With rising foreclosure rates, it's easy to find discount properties--especially in the abandoned property market. But how do you choose the best ones with the most profit potential? And how do you deal with the complexities and problems associated with abandoned properties?
The Abandoned Property Investor's Kit gives you all the practical, effective tools you need to break into this lucrative real estate niche. Reggie Brooks, the #1 abandoned property specialist in North America, shows you how to find abandoned properties, locate the owners, negotiate a cheap sale, get the financing you need, and turn your investment into big bucks. Brooks also explains the tricky aspects of abandoned property investing and offers proven solutions for dealing with them.
Inside, you'll discover how to:
Start investing in your spare time, with little or no money down
Find great properties in your market
Use creative financing techniques like wraparound mortgages and subject-to deals
Rehabilitate properties for increased curb appeal and higher rents or resale prices
Negotiate to win with lenders and owners
Understand purchase agreements and other documents
Even without cash on hand or a massive line of credit, savvy investors can still make a bundle. This comprehensive guide shows you how.
Table of contents
Chapter 1: How I Got Started Making an Extra $43,000 Investing in Abandoned Properties—And How You Can Too!
Investing in Abandoned Properties Is a Public Service to Your Community.
Foreclosures Feed the Abandoned Property Market.
How I Got Started.
The Beauty of Abandoned Property Investing: Very Few Competing Buyers!
Chapter 2: Why Every Real Estate Investor Should Do at Least One Abandoned Property Deal.
Motivated Sellers.
Advantages of Abandoned Property Investing over Other Strategies.
Combining Abandoned Properties with Other Techniques.
Chapter 3: How to Nail Low- or No-Money-Down Deals.
Raise the Price, Lower the Interest Rate.
Government Programs.
How to Research Grants in Your Area.
Available Loan Programs.
Chapter 4: Find Abandoned Properties Fast.
Target Your Search.
Spread the Word.
Join the Club.
Other Commonsense Strategies.
Stick with a System.
Chapter 5: Track Down the Owner.
Ask the Neighbors.
The Tax Advantage.
Other Public Records.
Simplicity Itself.
Chapter 6: Negotiating: Understand What Owners Want.
Key Principles.
Emotions in Negotiation.
Preparing to Negotiate.
Striving for a Win-Win.
Establishing Rapport.
What Does the Seller Need?
Chapter 7: Want an Option? Be Convincing.
A Sample Option Purchase.
Purchase Agreement and Receipt for Deposit.
Another Great Option Story.
Selling an Option.
Other Option Techniques.
Chapter 8: Creative Financing Techniques.
The Wraparound Mortgage.
The Subject-To Deal.
The Contract for Deed.
Other Creative Strategies.
Chapter 9: Turning the Corner and Heading Down the Home Stretch to the Abandoned Properties Winner's Circle.
Determining the Value of a Property.
Making an Offer.
A Standard Real Estate Purchase Contract.
The Purchase Contract Explained.
Chapter 10: Rehabbing Abandoned Properties: Creating Curb Appeal and Homes in Demand for Maximum Profit.
Preparation and Inspection.
Renovating for Rental.
Renovating for Resale.
A Shopping Trip.
Chapter 11: An Abandoned Property Deal from A to Z.
Schedule Reggie Brooks to Speak at Your Event.
Special Bonus: How to Create Massive Wealth in Real Estate.
Here's How to Get Your Free Wealth-Building Bonus . . . .
Who Is Reggie Brooks?
Index.