The Accelerated Schools Resource Guide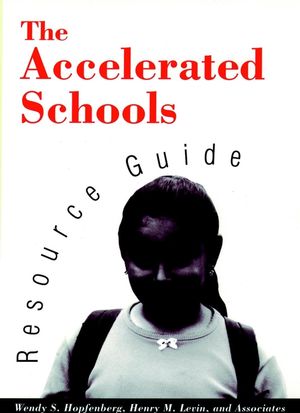 The Accelerated Schools Resource Guide
ISBN: 978-1-555-42545-6 October 1993 Jossey-Bass 400 Pages
Description
"Hopfenberg and Levin provide a pwerful resource for creatingschools grounded in community reflecton, inquiry, and the beliefthat all children can be smart. . .Here at last is a ?how-to' bookon school reform that helps educators confront the values, beleifs,and politics, as well as the practices, that make changing schoolsso difficult."
-- Jeannie Oaks, professor of education, UCLA

This resource is the first comprehensive guide to the innovativepractices of accelerated schools. It summarizes the lessons learnedby the project staff and the family of over 300 accelerated schoolsworking together during a seven-year period. It is designed to beused by a wide variety of participants for training, discussion,and guidance in the move to transform schools nationwide.
Cannot be combined with any other offers.
Original Price:$106.00
Purchased together:$79.50
save $26.50
Table of contents
Prologue
Introduction: A Guide to the Guide
1. Children in At-Risk Situations
2. What Are Accelerated Schools?
3. Getting Started
4. The Inquiry Process
5. Group Dynamics and Meeting Management
6. Creating Powerful Learning Experiences
7. The What of Powerful Learning: Developing MeaningfulCurricula
8. The How of Powerful Learning: Instructional Innovations andRediscoveries
9. The Context of Powerful Learning: Supportive OrganizationalElements
10. Family and Community Involvement
11. How Will I Know If My School Is Accelerating?
AppAndix: The Inquiry Process: A Notekeeping Device
Reviews
"Hopfenberg and Levin provide a powerful resource for creatingschools grounded in community, reflection, inquiry, and the beliefthat all children can be smart. Such schools can move away fromhierarchical, bureaucratic models in which only a few children are"winners" to become equitable and effective learning communitiesfor all. Here, at last, is a "how to" book on school reform thathelps educators confront the values, beliefs, and politics, as wellas the practices, that make changing schools so difficult."----Jeannie Oaks, professor of education, University ofCalifornia-Los Angeles

"The Accelerated Schools Project gives us an opportunity to workhard, be successful, and to fight off the temptations ofmediocrity." ----Michael O'Kane, prinicpal, Burnett Academy, SanJose Unified School District

"The accelerated schools philosophy takes our dreams and visions aseducators, parents, and students and turns them into reality."----Virginia Lynch, teacher, ARNONE Community Schools, Brockton,Massachusetts