The Accidental Marketer: Power Tools for People Who Find Themselves in Marketing Roles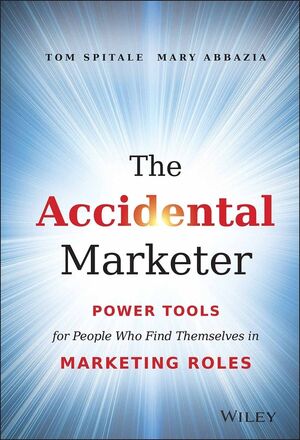 The Accidental Marketer: Power Tools for People Who Find Themselves in Marketing Roles
ISBN: 978-1-118-79739-6
Mar 2014
240 pages
Description
A practical guide for inexperienced marketers who have to develop a marketing strategy
With technology being built into products of all kinds, many businesses are hiring scientists, engineers, and designers to fulfill strategic marketing and product management roles. The Accidental Marketer is a practical guide for employees who are now responsible for developing strategy. These marketers will be able to immediately and successfully apply the ten tools featured in the book to create powerful strategies that increase sales and profits for any product in any industry.
Explains how great marketers uncover insights about customers that competitors miss and use new insights to create a range of strategic options for their marketing plans
Shows how the best marketers execute their strategies through developing innovative branding and communication plans and value propositions
The Accidental Marketer allows any inexperienced marketer to step into a new role and develop an effective strategy.
Preface xiii
Acknowledgments xix
Chapter 1: Who Moved My . . . Customer? 1
Key Question: How can we detect shifts in decision-making power before our competitors do?
Featured Case: The Simple Concept behind Dell's Success in the PC Market
Power Tool: Influencer Map
Chapter 2: The Fountain from Which Great Marketing Flows 15
Key Question: How can we turn data into insights?
Featured Case: How Holiday Inn Express Inspired Price-Conscious Travelers to Pay More
Power Tool: The Benefits Ladder
Chapter 3: Are You Making Lukewarm Tea? 37
Key Question: How do we capitalize on differences in customers' needs?
Featured Case: Quidel—How a Medical Diagnostics Marketer Blew Up Its Average Product and Got a Positive Result
Power Tool: Needs-Based Segmentation
Chapter 4: What Business Are You Really In? 57
Key Questions: What business are we in? Who are our direct and indirect competitors?
Featured Case: How Southwest Fooled Other Airlines into Thinking They Were the Competition
Power Tools: Market Tree and Competitor Analysis
Chapter 5: Who Do You Love? 73
Key Question: How do we align in determining which opportunities are most attractive to our organization?
Featured Case: How Enterprise Picked Up the Number 1 Market Share in Rental Cars Power Tool: Segment Attractiveness
Chapter 6: What Were They Smoking? 93
Key Question: What are our strengths and weaknesses relative to customers' other options (competitors)—through the eyes of our customers?
Featured Case: How Using an Ability to Win Analysis Could Have Saved Volkswagen Millions
Power Tool: Ability to Win
Chapter 7: The Magnetic Effect of Focus 115
Key Question: How do we prioritize and focus on the most important markets and segments?
Featured Case: Apple Demonstrates How Aiming at a Tight Target Leads to Massive Profits
Power Tool: Strategic Position Analysis (SPA)—a.k.a. The Prioritizer
Chapter 8: Viva la Differentiation 131
Key Question: How can we ""change the game"" in our favor and maximize our potential in the market?
Featured Case: Three Differentiation Strategies, Including How Nike Convinced Us That Sneakers Are a Fashion Item
Power Tools: Differential Advantage with Future State Ability to Win
Chapter 9: A Positioning Statement Is a Terrible Thing to Waste 155
Key Question: What image or perception do we want to own in the customer's mind?
Featured Case: Understanding How the Mind Works to Powerfully Position Your Product
Power Tool: Positioning Statement
Chapter 10: Reinventing a Commodity 173
Key Question: How should we develop our offer to make our positioning come alive?
Featured Case: How Starbucks Is Able to Fetch $2.75 for an 8-Ounce Latte
Power Tools: Value Proposition Idea Catcher and Perceived Value Analysis (PVA)
Closing Remarks 197
Resources 201
Index 211