The Addiction Counselor's Desk Reference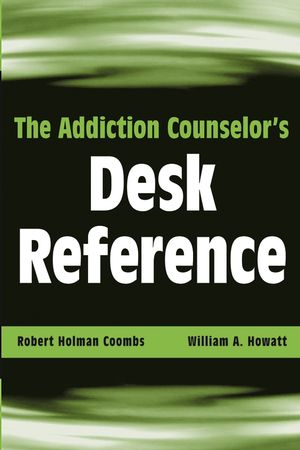 The Addiction Counselor's Desk Reference
ISBN: 978-0-471-71271-8
Feb 2005
432 pages
Description
The Addiction Counselor's Desk Reference is a comprehensive compilation of information about the full spectrum of addictive disorders, their consequences, and treatment. This unique text includes detailed definitions and practical illustrations of addiction-related terminology, addictive disorders and behaviors, descriptions of treatment models and techniques, as well as lists of relevant websites, government resources, and treatment centers. Addiction professionals will find this information-packed guide to be an invaluable practice tool.
The most up-to-date resource of its kind
Contains detailed definitions, practical illustrations, relevant websites, government resources, and information about treatment centers
Written by a leading authority on addiction research, prevention, and treatment
Preface.
Acknowledgments.
PART I: ABUSED SUBSTANCES AND THEIR EFFECTS.
Abused Drugs.
Control Schedules for Abused Drugs.
PART II: CONCEPTUAL TOOLS.
Definitions of Addiction.
Characteristics of Addiction.
Types of Addictive Disorders.
Drug-Use Stages.
Levels of Drug Use.
Stages of Behavioral Change.
Prevention Types and Principles.
PART III: TREATMENT PLANNING AND ASSESSMENT RESOURCES.
Treatment Planning.
Assessment Resources.
Dual Diagnoses: Psychiatric Illness with Addiction.
PART IV: CLINICAL SKILLS AND RESOURCES.
Clinical Models.
Counseling Techniques.
Clinical Microskills.
Client Homework Exercises.
Client Health and Stress Management.
PART V: TREATMENT RESOURCES.
Addiction Recovery Tools.
Addiction Recovery Programs.
Harm Reduction Programs.
PART VI: PROFESSIONAL MANAGEMENT.
Record Keeping.
Crisis Management.
Difficult Clients.
Legal and Ethical Responsibilities.
PART VII: CAREER ENHANCEMENT RESOURCES.
Educational Resources.
Business Plan.
Wellness Plan.
Malpractice Insurance.
PART VIII: INFORMATION RESOURCES.
National and International Organizations.
Grant-Funding Resources.
Publishing Resources.
Drug Policy Advocates.
Glossary.
References.
Author Index.
Subject Index.
""…is an internationally known, classic work spanning 75 years of research....  This book is laid out in a clear and easy-to-use format that provides nearly all information an addiction counselor might need in one resource."" (
The American Reference Books Annual
, March 2007)
""In the final analysis, the authors are to be commended for bringing a compendium of information together in one volume."" (PsycCRITIQUES, 5/31/2006)