The Adoption Reunion Handbook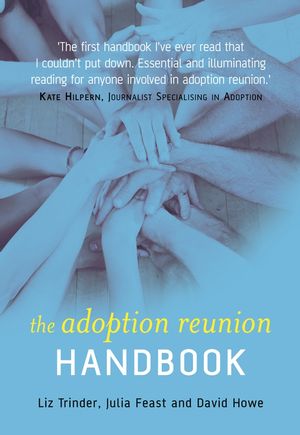 The Adoption Reunion Handbook
ISBN: 978-0-470-09423-5
Nov 2004
174 pages
Description
The book describes the experiences that people have had when tracing their birth parents, as well as offering practical advice on how to go about searching and what to expect emotionally. Each section has an advice box which summarizes key points, notes issues to pay particular attention to, or offers draft letters that readers can adapt for their own needs. The appendix contains useful addresses and weblinks, and includes checklists for searching and for the reunion. Chapters include reunion with birth fathers and birth siblings, as well as with birth mothers, the relationship with the adoptive family and dealing with reunions that break down.
About the authors.
Preface.
Foreword.
Acknowledgements.
1. Introduction.
2. Taking the first step: Birth record information.
3. On the search trail.
4. Reunions with birth mothers.
5. Reunions with birth fathers.
6. Reunions with siblings.
7. The adoptive family and reunion.
8. Rejection and reunions that break down.
9. The search and reunion journey.
Appendix: Information on search and reunion in the UK, Ireland, Australia, New Zealand, Canada and the USA.
Further reading.
Index.
""A 'how to' guide, especially valuable if you are considering searching for birth relatives."" (
Practical Family History
, December 2008)
""...advice-packed guide to adoption search-and-reunion...essential information and personal perspectives..."" (www.adoption-net.co.uk, July 2004)
""...offers vital information..."" (Sunday Express,15th August, 2004)
""...an advice packed guide...essential information and personal perspectives for every aspect of the process..."" (Bath Chronicle, 27 July 2004)
""...this book is a gem...the authors have done a splendid job...will be hugely helpful...""(www.familyonwards.com, 11 August 2004)
""...4 stars...clearly written...considered and thoughtful text...""(Community Care, August 2004)
""...a user friendly how-to book..."" (Eastern Daily Press, 25th August 04)
""...accessibly presented, and full of compassion and insights..."" (Care and Health 14 September 2004)
""...a useful guide...one of the most important publications relating to adoption ever to be published..."" (Intermix, The Newsletter - Summer 04)
""...The Adoption Reunion Handbook provides an advice-packed guide to adoption search-and-reunion..."" (www.adoption-net.co.uk, 23 November 2004)
""...written in a straight-forward, enjoyable style free of jargon...as comprehensive a handbook as one could wish for..."" (Adoption & Fostering, Vol 28 (4) 2004)