The Adorno Reader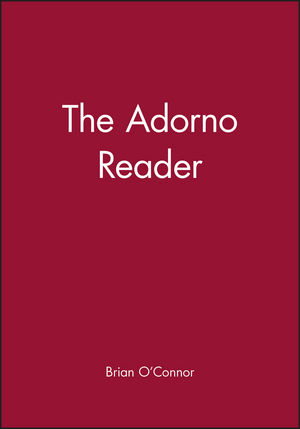 The Adorno Reader
ISBN: 978-0-631-21076-4
Apr 2000, Wiley-Blackwell
384 pages
Description
This superb volume brings together for the first time the essential readings selections from Adorno's multidisciplinary work. It will be valuable to readers at various levels as it makes available Adorno material which previously was either difficult to access or was presented in a form which was intimidating.
Acknowledgements.
A Note on Selections.
Introduction.
Part I: The Task of Philosophy: .
1. The Actuality of Philosophy.
2. Why Philosophy?.
3. Negative Dialectics and The Possibility of Philosophy.
4. The Melancholy Science.
5. Meditations on Metaphysics: After Auschwitz.
Part II: The Concepts of Philosophy: .
6. The Essay as Form.
7. Metacritique of Epistemology.
8. Subject and Object.
Part III: Sociology: .
9. The Concept of Enlightenment.
10. Sociology and Empirical Research.
Part IV: Art, Culture and Society:.
11. Cultural Criticism and Society.
12. Lyric Poetry and Society.
13. Culture Industry Reconsidered.
14. The Autonomy of Art.
Part V: Criticism: .
15. The Perennial Fashion - Jazz.
16. Arnold Schoenberg, 1874-1951.
17. Alienated Masterpiece: The Missa Solemnis.
18. Trying to Understand Endgame.
Select Bibliography.
Index.
"Philosopher, social theorist, musicologist and critic, Adorno is now accepted as one of our century's most brilliant radical thinkers. The great virtue of Brian O'Connor's lucidly presented selection is to make clear the depth and consistency, as well as the extraordinary range, of Adorno's work. The book will be of value to newcomers and scholars alike."
Michael Rosen, Lincoln College, University of Oxford
"Invaluable. Brian O'Connor has put together the ideal Adorno reader, containing not only Adorno's finest essays, but precisely the pieces that are necessary for teaching Adorno. Because of its range, this volume will suit students of literature and social theory as well as philosophy." Jay M. Bernstein, Vanderbilt University

"This collection of Adorno's most significant essays, along with the excerpts from his major philosophical texts, provides a much needed single resource for guiding students through the critical force of Adorno's thinking. O'Connor's introduction gives a compact overview of the history of Adorno's writings as well as a lucid...exposition of Adorno's concept of experience." Colin Hearfield, University of New England
* This is the first selection of Adorno's essential readings.
* Includes Adorno's writings on the task of philosophy, the concepts of philosophy, sociology, art, culture and society, and criticism.
* Makes available material which previously was either difficult to access or was presented in a form which was intimidating.
* Includes substantial introductions to each section that explicates some of the more obscure terminology and arguments.