The Age of Anxiety: Conspiracy Theory and the Human Sciences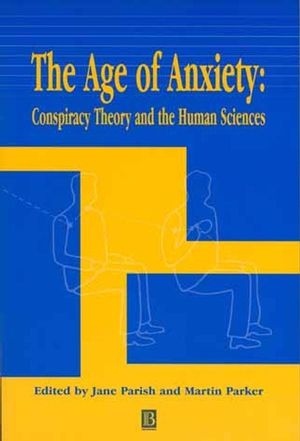 The Age of Anxiety: Conspiracy Theory and the Human Sciences
ISBN: 978-0-631-23168-4
Dec 2001, Wiley-Blackwell
222 pages
Product not available for purchase
Description
From the assassination of JFK in November 1963 to Watergate and the death of Diana, theories about conspiracies beset popular culture. Television programmes about mysteries and 'inexplicable' events command peak time viewing schedules, reinterpreting 'old' conspiracy theories with new evidence. This book differentiates between conspiracy theory and theories about conspiracies.
1. The Age of Anxiety: Jane Parish (School of Social Relations, Keele University).
2. Iloveyou: Viruses, Paranoia and the Environment of Risk: Peter Knight (Staffordshire University).
3. The Obscure Politics of Conspiracy Theory: Mark Featherstone (Staffordshire University).
4. Conjuring Order: the new world order and conspiracy theories of globalization: Alisdair Spark (King Alfred's College, Winchester, UK).
5. Militias, the Patriot Movement, and the Internet: Nigel Woodcock (Manchester University).
6. Taking conspiracy seriously: fantastic narratives and Mr Grey the Pan-Afrikanist on Monserrat: Jonathan Skinner (University of Abertay, Dundee).
7. Tout est Lie: The Front National and Media Conspiracy Theories: Adrian Quinn (Liverpool John Moores University).
8. The Popular Culture of Conspiracy/The Conspiracy of Popular Culture: David Bell & Lee-Jane Bennion-Nixon (Staffordshire University).
9. Conspiracy, corporate culture and criticism: Warren Smith (University of Leicester).
10. Conspiracy, What Conspiracy? Social Science, Funding, and the Politics of Accusation: Simon Lilley (Keele University).
11. Human science as conspiracy theory: Martin Parker (Keele University).
Notes on contributors.
Index.


Addresses a wide variety of provocative and unique topics related to conspiracy theory and practice.


Established contributors ranging from academics within politics, media studies, anthropology, sociology, management and cultural studies.


Chapters on computer viruses, the politics of the far right in France and militias in the USA, the X-Files, anti-corporate protest and more.


Essential reading for anyone interested in contemporary culture.