The Age of Augustus, 2nd Edition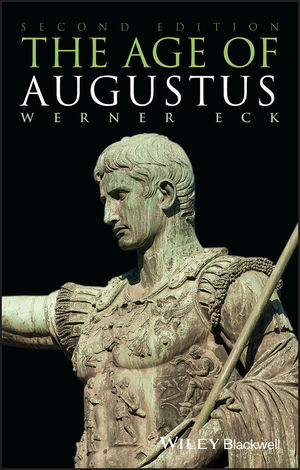 The Age of Augustus, 2nd Edition
ISBN: 978-1-405-15149-8
Aug 2007, Wiley-Blackwell
224 pages
Description
In this updated edition of his concise biography, Werner Eck tells the extraordinary story of Augustus, Rome's first monarch.




Incorporates literary, archaeological, and legal sources to provide a vivid narrative of Augustus' brutal rise to power

Written by one of the world's leading experts on the Roman empire

Traces the history of the Roman revolution and Rome's transformation from a republic to an empire

Includes a new chapter on legislation, further information on the monuments of the Augustan period, more maps and illustrations, and a stemma of Augustus' family

Thorough, straightforward, and organized chronologically, this is an ideal resource for anyone approaching the subject for the first time
Acknowledgments.
List of Illustrations.
List of Maps.
1. Augustus' Career in Overview: The Res Gestae.
2. Modest Origins, Powerful Relatives.
3. Seizing Power and Legalizing Usurpation.
4. The Triumvirate: Dictatorship Sanctioned by Law.
5. The Path to Formal Legitimation as a Ruler.
6. The Final Battles for Power: Actium and Alexandria.
7. A New Political Order: The Principate Takes Shape.
8. The Principate Develops Further.
9. The Princeps and the Roman Elite.
10. The Practical Implementation of Political Power: Governing the Empire.
11. Shaping the Lives of Men.
12. A Standing Army.
13. War and Peace: Expanding the Empire.
14. Rome, the Augustan City.
15. The Quest for Political Continuity: The Succession.
16. Augustus' Death and the Future of the Empire.
Time Line.
Appendix: The Res Gestae of Augustus.
The Res Gestae of Augustus by Sarolta A. Takács.
Select Bibliography.
Index
"Eck has produced a second edition of
The Age of Augustus
good news, especially as this is not just the same lucid book of 2003 with additional bibliography, but has a new chapter, a section on the German wars, and new illustrative material, growing by more than forty pages." (
Greece & Rome
, 2008)
Praise for the first edition:

"[Eck's] narrative (in this fine translation) is readable, rarely obscure and fluently glosses difficult terms and concepts in a way that obviates the need for a glossary. Moreover, he skillfully handles difficult constitutional matters … without confusing the beginner, points out controversial issues, and marks his divergences with current scholarly opinion." (Bryn Mawr Classical Review)
"The book provides a narrative of Augustus' achievements and expenditures on behalf of the Roman res publica … Eck is of course a recognized authority. He is the pre-eminent Roman administrative historian, prosopographer, and epigraphist of our time." (The Classical Journal)


Incorporates literary, archaeological, and legal sources to provide a vivid narrative of Augustus' brutal rise to power

Written by one of the world's leading experts on the Roman empire

Traces the history of the Roman revolution and Rome's transformation from a republic to an empire

Includes a new chapter on legislation, further information on the monuments of the Augustan period, more maps and illustrations, and a stemma of Augustus' family

Thorough, straightforward, and organized chronologically, this is an ideal resource for anyone approaching the subject for the first time