The Algebra Teacher's Activity-a-Day, Grades 6-12: Over 180 Quick Challenges for Developing Math and Problem-Solving Skills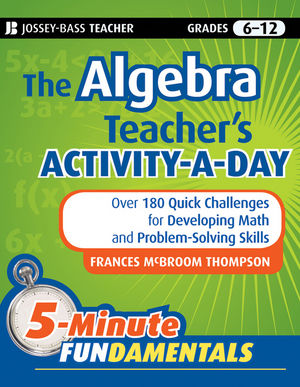 The Algebra Teacher's Activity-a-Day, Grades 6-12: Over 180 Quick Challenges for Developing Math and Problem-Solving Skills
ISBN: 978-0-470-61604-8 May 2010 Jossey-Bass 256 Pages
Description
Fun-filled math problems that put the emphasis on problem-solving strategies and reasoning
The Algebra Teacher's Activity-a-Day offers activities for test prep, warm-ups, down time, homework, or just for fun. These unique activities are correlated with national math education standards and emphasize problem-solving strategies and logical reasoning skills. In many of the activities, students are encouraged to communicate their different approaches to other students in the class.
Filled with dozens of quick and fun algebra activities that can be used inside and outside the classroom
Designed to help students practice problem-solving and algebra skills
The activities address a wide range of topics, skills, and ability levels, so teachers can choose whichever best suit the students' needs.
About This Book.
About the Author.
Acknowledgments.
Correlation with NCTM Process and Standards Grid.
Section 1. What Doesn't Belong?
Section 2. What's Missing?
Section 3. Where Is It?
Section 4. Algebraic Pathways.
Section 5. Squiggles.
Section 6. Math Mystery Messages.
Section 7. What Am I?
Section 8. Al-ge-grams.
Section 9. Potpourri.
Cooperative Games.
Oral Team Problems.
Mini-Investigations.
Section 10. Calculator Explorations.
Applications.
Graphical Explorations.
Suggested Resources.
Answer Key.