The American Century: Consensus and Coercion in the Projection of American Power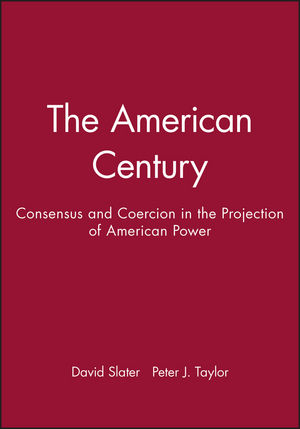 The American Century: Consensus and Coercion in the Projection of American Power
ISBN: 978-0-631-21221-8
Nov 1999, Wiley-Blackwell
376 pages
Description
This book brings together studies of Americanization and American imperialism to assess how far the twentieth century can be seen as the "American Century".
List of Contributors.
Preface. .
Part I: Introductions: American Destiny?.
1. Locating the American Century: A World-systems Analysis (Peter J. Taylor).
2. Locating the American Century: Themes for a Post-colonial Perspective (David Slater) .
Part II: Economic Capacities: American Know-how? .
3. Global Shift - the Role of United States Transnational Corporations (Peter Dicken).
4. The Dynamics of US Managerialism and American Corporations (Michael Taylor).
5. Overseas Investment by US Service Enterprises (P.W. Daniels).
6. The Rise and Decline of US International Monetary Hegemony (Mark Holmes and Eric Pentecost).
7. The 'New' Developmentalism: Political Liberalism and the Washington Consensus (Kate Manzo) .
Part III: Political Capacities: The Arsenal of Democracy? .
8. Inaugurating the American Century: 'New World' Perspectives on the 'Old' in the Early Twentieth Century (Michael Heffernan).
9.European Integration and American Power: Reflex, Resistance and Reconfiguration (Michael Smith).
10. The United States, the 'Triumph of Democracy' and the 'End of History' (R.J. Johnston).
11. Taking the Cold War to the Third World (Klaus Dodds).
12. US Influence in the Making of the Contemporary Amazon Heartland (Berta K. Becker and Roberto S. Bartholo, Jr).
13. American Power and the Portuguese Empire (James Sidaway).
14. The Reality of American Idealism (Gillian Youngs).
15. Contradictions of a Lone Superpower (David Campbell).
Part IV: Cultural Capacities: The American Dream?.
16. Occult Hollywood: Unfolding the Americanization of World Cinema (Marcus A. Doel).
17. Global Disney (Alan Bryman).
18. 'The Kind Of Beat Which is Currently Popular': American Popular Music in Britain (Tim Cresswell and Brian Hoskin).
19. American Philanthropy as Cultural Power (Morag Bell).
20. Between North and South: Travelling Feminisms and Homeless Women (Claudia de Lima Costa).
21. Americanization of the World (Pablo Gonzalez Casanova).
Part V: Conclusion: American Centuries?.
22. Multiple Themes, One America; One Theme, Multiple Americas (David Slater and Peter J. Taylor.
Index.
"[A] lively and insightful collection of essays ... by and large readable and succinct, suggesting a strong editorial hand. They are accessible to non-specialists and will prove useful in the classroom." Progress in Human Geography <!--end-->


Examines American power and globalization from the perspective of those outside the US.


Looks forward to the future and the possibility of a second "American Century".


Addresses subjects of relevance to several disciplines.