The American City: Civic Culture in Sociohistorical Perspective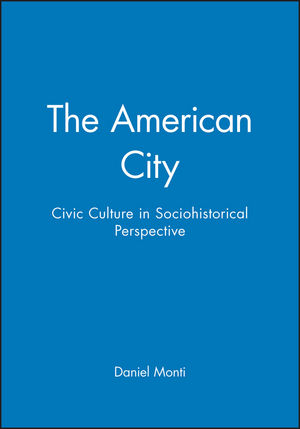 The American City: Civic Culture in Sociohistorical Perspective
ISBN: 978-1-557-86918-0
Oct 1999, Wiley-Blackwell
400 pages
Description
In this book Daniel Monti reconciles liberal and conservative viewpoints to claim that Americans are indeed a community of believers and that a viable and vital civic culture exists in the United States despite notions of difference and apathy.
Preface and Acknowledgments.
1. What Makes the Good Society?.
2. We Are a Bourgeois People Who Made an Urban World.
3. On Small Towns and Their 'Citified' Ways.
4. The Civic Culture of American Cities.
5. Belonging and Sharing.
6. Piety and Tolerance.
7. Private Lives and Public Worlds.
8. Doing Well by Doing Good.
9. Some Sort of Americans.
10. Articles of Faith: Personal Adornment as a Communal Accomplishment.
11. Private Entitlements as a Public Good.
12. Some Concluding Observations About the "Good Old Days".
Further Reading.
Index.
"
The American City
explores big questions about how we live now with a tantalizing mix of historical and sociological analysis. Although Monti addresses weighty matters that have inspired deep reflections from major social theorists, he does so in a simple, modest, and personal style that is exceptionally engaging."
Stephan Thernstrom, Harvard University
"This is a very valuable addition to the literature on urbanism: a blend of sociology, political science, and history; a blend of hope and realism; of capitalism and community; of liberal and conservative perspectives. It amounts to a new ethical philosophy of urbanism by one of the few Americans qualified to write one." Roger Lotchin, University of North Carolina at Chapel Hill
"Monti's wonderful book illustrates an important theme: if American cities are not Utopia, neither are they the social disaster zones portrayed by their more apocalyptic critics. Extensively researched, The American City is an extended personal reflection on America's urban experience. This appealing and highly readable book will unquestionably stimulate debate and discussion." Paul Boyer, University of Wisconsin