The American Culinary Federation's Guide to Culinary Certification: The Mark of Professionalism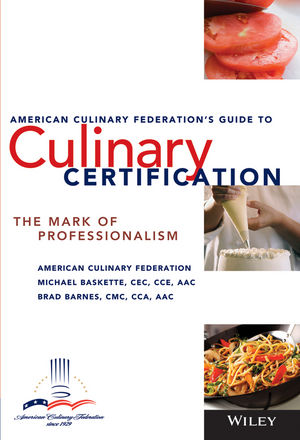 The American Culinary Federation's Guide to Culinary Certification: The Mark of Professionalism
ISBN: 978-0-471-72339-4
Aug 2005
144 pages
Description
There are many opportunities to specialize in the culinary field, but having broad skills, varied experiences, and a diverse knowledge of food and drinks facilitates a career of success and achievement. American Culinary Federation Guide to Certification is the essential guide to obtaining a valuable credential awarded to cooks and chefs, as well as pastry cooks and pastry chefs, denoting a sophisticated level of industry experience and professional education rigorously evaluated by the American Culinary Federation (ACF). American Culinary Federation Guide to Certification holds essential knowledge to gaining acceptance into the only comprehensive certification program for chefs in the United States, which is registered with the U.S. Department of Labor. It's a must-have for career-minded cooks and chefs hungry for notoriety in the industry.
Foreword from the Series Editor.
Preface.
1. The History of ACF Certification.
Setting the Bar for Professional Development.
Gaining Distinction.
The New Professional Chef.
The Future of the Culinary Profession.
2. The Significance of ACF Certification.
Building the ACF Certification Ladder.
Climbing the Rungs of the ACF Ladder.
What ACF Certification Means to the Marketplace.
3. The ACF Validation Process: Meeting Measurable Objectives.
How the ACF Certification Program Works.
Background of ACF Development.
Setting Measurable Objectives.
Measuring Performance Objectives.
Conclusion.
4. Laying a Foundation in Learning.
Classical Cuisines Set the Standard.
Presenting the Classics for Certification.
Cross-Training in Culinary Fundamentals.
Progressive Learning.
Continuing Education.
Conclusion.
5. Planning a Career Path in Foodservice.
Considering the Possibilities.
Staying the Course.
Conclusion.
6. Documenting Your Experience.
The Proof Is in the Documentation.
Organizing, Protecting, and Storing Documentation.
Conclusion.
7. Levels of ACF Certification.
ACF Levels of Achievement.
Conclusion.
8. The ACF Written Test: Strategies in Learning.
Who Takes the ACF Certified Exams?
Who Administers the Tests?
The Exam Matrix.
Reference Materials.
Study to Achieve Success.
9. Evaluating Cooking Skills: The Premise behind the Practical Exam.
Mind-set for Success.
Understanding the Role of the Evaluators.
Conclusion.
10. Taking the Show on the Road: More on the Practical Testing Process.
Preparing to Prepare.
Addressing the Subsets of the Cooking Practical.
Conclusion.
11. The Application Process.
Application Basics.
Completing the Application Process.
12. Achieving the Ultimate Goal: Certified Master Chef.
Details of the CMC Test.
Conclusion.
Index.
Written by the certifying body of the ACF and is the only authoritative guide to its certification process
Clear explanations of specific skills tested at all five certification levels
A road map to passing every certification level, from Certified Culinarian to the prestigious Certified Master Chef
Offers helpful tips on how to pass each level of the exam