The American Novel Now: Reading Contemporary American Fiction Since 1980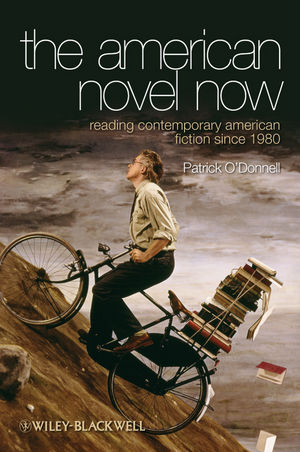 The American Novel Now: Reading Contemporary American Fiction Since 1980
ISBN: 978-1-405-16755-0 February 2010 Wiley-Blackwell 248 Pages
Description
The American Novel Now navigates the vast terrain of the American novel since 1980, exploring issues of identity, history, family, nation, and aesthetics, as well as cultural movements and narrative strategies from over seventy different authors and novels.
Discusses an exceptionally wide-range of authors and novels, from established figures to significant emerging writers
Toni Morrison, Thomas Pynchon, Louise Erdrich, Don DeLillo, Richard Powers, Kathy Acker and many more
Explores the range of themes and styles offered in the wealth of contemporary American fiction since 1980, in both mainstream and experimental writings
Reflects the liveliness and diversity of American fiction in the last thirty years
Written in a style that makes it ideal for students and scholars, while also accessible for general readers
Acknowledgements.
Preface.
Part I: Before 1980.
Part II: From New Realisms to Postmodernism.
This American Life".
"Dirty Realisms".
Only Wor(l)ds.
Magnifying Reality, Multiplying Genre.
Part III: Becoming Identities.
Reinventing Character.
Racing Identity.
Engendering Narrative.
Toward the Posthuman.
Part IV: What Happened to History?
The Past is Prologue.
Tunneling In.
Imagining Epoch.
Another History.
Catastrophe:  The Ends of History.
Part V:  Relations Stopping Nowhere.
The Postnuclear Family.
The Reach of Community.
Nation and Migration:  From There to Here.
Epilogue.
Notes.
References.
Index.
"In this extremely accessible discussion, O'Donnell (Michigan State Univ.) reveals his as an authoritative voice on novels from the 1980s to present. His selections are, by his own admission, eclectic: he writes in the introduction that he "chose to discuss, where appropriate, both widely read novels published by the mainstream commercial presses and less visible, often experimental work published by independent presses." He looks at work from more than 70 authors, including central figures of the American literary canon--Toni Morrison, Thomas Pynchon, Louise Erdrich, and Don DeLillo, to name only a few. O'Donnell divides the book (and his approach) into five distinctive parts, discussing, respectively, work leading to the 1980s; realism and experimentation; identity, as it pertains to character--gender, ethnicity, and so on; historicity and "end times"; and social emergence within the novel. All this leads to an intriguing "excursus that speculates on the future of the novel." This is a comprehensive discussion of the novel and present circumstances influencing it--an interesting study on many levels."
(CHOICE,
December 2010)
"The American Novel Now provides an accessible introduction to the many strands of post-1980 American fiction." (TLS, June 2010)
Discusses an exceptionally wide-range of authors and novels, from established figures to significant emerging writers
Featured authors include Toni Morrison, Thomas Pynchon, Louise Erdrich, Don DeLillo, Richard Powers, Kathy Acker and many more
Explores the range of themes and styles offered in the wealth of contemporary American fiction since 1980, in both mainstream and experimental writings
Reflects the liveliness and diversity of American fiction in the last thirty years
Written in a style that makes it ideal for students and scholars, while also accessible for general readers