The American Philosophers, Volume XXVIII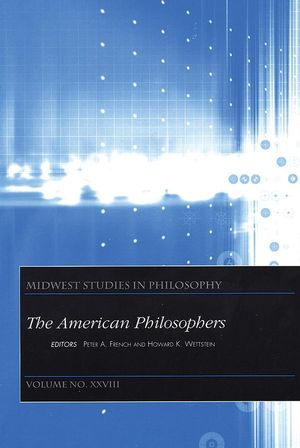 The American Philosophers, Volume XXVIII
ISBN: 978-1-405-11924-5 August 2004 Wiley-Blackwell 408 Pages
Description
The American Philosophers contains papers by current leading philosophers and political theorists that explore the work of the major American philosophers from the colonial period to the present, from Jonathan Edwards to David Kaplan.



Contains a philosophically and historically broad exploration of the major schools of American philosophy


Examines both the pragmatists and the later Twentieth Century analytic philosophers, as well as such shapers of the political and philosophical American scene as Franklin, Jefferson, Madison, Emerson, and Jane Addams
Learning Is the Handmaid of the Lord: Jonathan Edwards (1703-1758), Reason, and the Life of the Mind (Allen C. Guelzo).
George Ripley (1802-1880) and Miracles: External Evidence Versus Internal Conviction (Bruce Silver).
The Radical Political Philosophy of Thomas Jefferson (1743-1826): An Essay in Retrieval (Richard K. Matthews).
James Madison (1751-1836) (George W. Carey).
Emerson (1803-1882) on the Realization of Freedom (Gustaaf Van Cromphout).
Thoreau's (1817-1862) Lakes of Light: Modes of Representation and the Enactment of Philosophy in Walden (H. Daniel Peck).
Jane Addams (1860-1935): Patriotism in Time of War (Scott L. Pratt).
The Principle of Pragmatism: Peirce's (1839-1914) Formulations and Examples (Christopher Hookway).
James (1842-1910) on the Nonconceptual (Russell B. Goodman).
William James (1842-1910) and John Dewey (1859-1952): The Odd Couple (Richard M. Gale).
Experience as Experimental and Reconstructed Realism: An Interwoven Core of Mead's (1863-1931) Philosophy (Sandra Rosenthal).
The Difference God Makes (Josiah Royce, 1855-1916) (John Lachs).
C. I. Lewis (1883-1964) on the Given and Its Interpretation (Laurence BonJour).
On Quine's (1908-2000) Rejection of Intensional Entities (Michael Jubien).
Denying a Dualism: Goodman's (1906-1998) Repudiation of the Analytic/Synthetic Distinction (Catherine Z. Elgin).
Ryleans and Outlookers: Wilfrid Sellars (1912-1989) on "Mental States' (Jay F. Rosenberg).
Equal Liberty for All? (John Rawls, 1921-2002) (Thomas Pogge).
What Nozick (1938-2002) Did for Decision Theory (David Schmidtz and Sarah Wright).
On Kripke (1940- ) and Statements (G. W. Fitch).
Donald Davidson (1917-2003) (Ernest LePore and Kirk Ludwig).
Freedom to Break the Laws (David Lewis, 1941-2001) (Peter van Inwagen).
Putnam's (1926- ) Retreat: Some Reflections on Hilary Putnam's Changing Views about Metaphysical Necessity (Bob Hale).
David Kaplan (1933- ) on De Re Belief (Erin L. Eaker)
"But in spite of this shortcoming, the editors have succeeded in putting together a very rich and stimulating collection of essays." (British Journal for the History of Philosophy, 2010)


Features the work of current leading philosophers and political theorists

Contains a philosophically and historically broad exploration of the major schools of American philosophy

Examines both the pragmatists and the later twentieth-century analytic philosophers, as well as such shapers of the political and philosophical American scene as Franklin, Jefferson, Madison, Emerson, and Jane Addams